It Isn't JUST The Economy : Blog Of The Nation The polls tell us what people really care about is the economy. So why do we keep hearing so much about issues of national security?
It Isn't JUST The Economy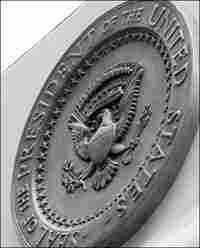 So the economy isn't the only issue in this election, after all. And even when it is, pocketbook concerns touch on another area that underlies many voter's thinking... Foreign policy (the Venn diagram in my head links energy, the economy, China, Russia, Iraq, etc, etc, in a convoluted mix). And while opinions may differ on the specific steps involved, there's general agreement that the world facing the next administration come January will present unique challenges, and opportunities to redefine and enhance US power. Robert Kagan, in Foreign Affairs lays out his vision for the next president in what he calls "The September 12 Paradigm."
The United States and other democratic nations will need to take a more enlightened and generous view of their interests than they did even during the Cold War. The United States, as the strongest democracy, should not oppose but welcome a world of pooled and diminished national sovereignty. It has little to fear and much to gain in a world of expanding laws and norms based on liberal ideals and designed to protect them. At the same time, the democracies of Asia and Europe need to rediscover that progress toward this more perfect liberal order depends not only on law and popular will but also on powerful nations that can support and defend it.
Ambassador Richard Holbrooke, also in Foreign Affairs calls what the next president faces, "a daunting agenda," but says:
The United States is not a helpless giant tossed on the seas of history. It is still the most powerful nation on earth, and within certain limits, it can still shape its own destiny and play the leading role in a multipolar world. It can still take the helm in addressing the world's most pressing problems (as President Bush did effectively on only one issue, AIDS). There are many issues waiting for inspired and, yes, noble U.S. leadership, backed up by enlightened U.S. generosity that is also in the United States' own interest. The United States is still great. It deserves leadership worthy of its people, leadership that will restore the nation's pride and sense of purpose. That task must begin at home, but the world will be watching and waiting.
We'll hear a lot in the next two weeks about pocketbook issues, the finances of candidates and whether they can relate to the average Joe, and of course that "it's the economy stupid." But with US troops in Iraq and Afghanistan, Russian troops in Georgia, China's economy exploding, Iran's nuclear ambitions unclear, middle east peace in question, and the global war on terror ongoing, issues of national security and foreign policy can't be overlooked.
As a voter, what do you think should be the top priority for the next administration?