Unintentional Hilarity: Olympic Bikini Edition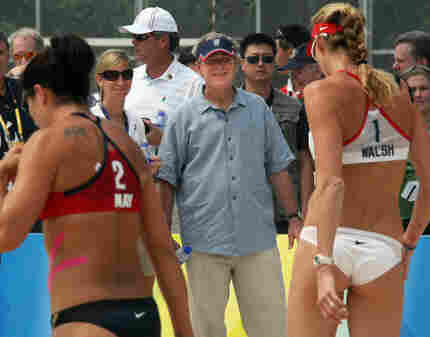 All this week, we'll be bringing you the most unintentionally hilarious photos from the Olympic games in Beijing. Our inaugural photos are probably well known to you -- but they're such a strong start to the week, that it would simply be foolish not to let you enjoy them. Above, you'll see a happy volleyball fan, also well known to you as President Bush. Below, you'll see -- well, you'll see a couple of well-toned rear ends.
The Getty caption follows:
US beach volleyball player Misty May Treanor invites US President George W. Bush to give her a playful slap to her lower back (as is customary in the sport) as team-mate Kerri Walsh looks during a visit to the beach volleyball venue in Beijing on August 9, 2008.
I like Getty's straightforwardness. I mean, you would have to assume that the good-humored back slap is customary for beach volleyball, and not for greeting the President, but still, clarity is preferred. After all, you wouldn't want to see people bending over in, say, the U.N. General Assembly -- and I doubt you could get Chavez to do it.
One more quick note. This photo has been linked again, and again -- it's all over the web this morning. And you'll note, there's more than one photog that got the shot (so to speak). That means that both GWB and MMT were likely surrounded by cameras when she decided to drop it like it's hot, and he contemplated slapping her (in the customary fashion). And they both thought it was a good idea to give them the shot.