Play Ball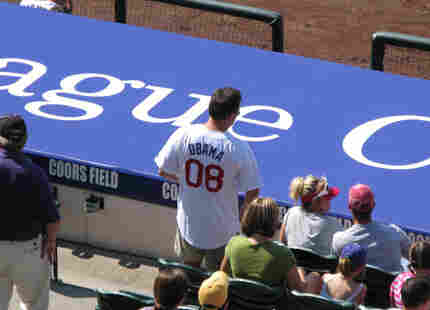 I'm in Denver, mere miles from where I was born, helping with NPR's coverage of the Democratic National Convention. Needless to say, it's beautiful here. No humidity!
The centerpiece of our convention coverage is a series of interviews called "This American Moment." Every day, we'll ask a different artist, writer, scholar, thinker, or politician to put this campaign — and this election — in context. What does it mean to them? How does it fit into history? And what is at stake in the fields in which they work? This week, we'll hear from Lani Guinier, Jorge Ramos, Christopher Hitchens, and Jimmy Carter.
Since I landed on Thursday night, journalists and Democratic delegates have flooded the city. Needless to say, security here is tight. The perimeter around the Pepsi Center and INVESCO Field at Mile High, built of concrete barriers and chainlink fencing, is formidable. Police officers, from Denver and beyond, are on most street corners, wearing menacing-looking outfits. (Last night, on the way to dinner, I passed a white Humvee. Officers in riot gear clung to the side of the SUV.)
A few days ago, I grabbed a small pizza at one of my favorite Denver restaurants, the Wazee Supper Club. The bartender told me that he and his staff had been briefed about what to do if there are riots or bomb threats. (He didn't seem worried.) He said that many other bars and restaurants downtown had been rented out. If you watch CNN this week, take a close look at their studios. They took over a bar called Brooklyn's, just steps away from the Pepsi Center.
Some family friends had a pair of spare tickets to the Rockies game yesterday. In beautiful Coors Field, I watched the local team stage a pretty good comeback against the Cincinnati Reds. As you can see in the photograph above, which I snapped from our seats, there were a few sports-loving Democratic delegates in the crowd.
Our office space is in a hotel downtown, just a few minutes away from the arena and football stadium. Picture a large hotel conference room, crammed with laptops, telephones, television screens, and sundry audio equipment. In two adjacent rooms, engineers have built small studios for guests. (Ted Koppel, with whom Neal is going to speak later, will be here soon.)
I'll provide updates during the week. With photos! If you have any questions for me, leave 'em here.