PoJu: Nader Edition : Blog Of The Nation The Political Junkie fits a lot of political news in, plus, independent candidate for president Ralph Nader.
PoJu: Nader Edition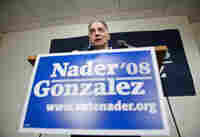 There was a time, my parents assure me, when the name Ralph Nader was associated with more than the 2000 election, or indeed, any election. Now, Nader's running in his third consecutive presidential election. Critics in the Democratic party argue that he can't win, but might get enough votes in a key state or two and throw a close election to the Republicans. Their argument: Florida, 2000. Today, he joins us at the Newseum to take your questions, as well as the Political Junkie's queries. Plus, we know where you've been getting your political news -- the National Enquirer -- the Atlantic publishes some Clinton campaign secrets (that sound sorta tabloid-y), and Georgia is on everybody's mind. It's the Political Junkie at the Newseum... post your thoughts here.
*Every picture of Nader looks like an edition of Unintentional Hilarity.