The Econonaut Explains: Trade This : Blog Of The Nation Translating the economic gobbledygook -- Adam Davidson, the Econonaut!
The Econonaut Explains: Trade This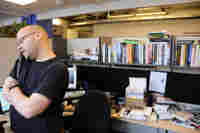 Those of you who are regular listeners to NPR will recognize Adam Davidson as The One Guy On The Planet Who Can Bring Clarity To Economics (TOGOTPWCBCTE). He and Alex Blumberg collaborated on what is, possibly, the best explanation of "the credit crisis" I've heard on any media outlet, for the excellent radio program, This American Life. Now, you will recognize him (you will! you will!) as TOTN's Econonaut (that's four syllables, rhymes with Argonaut) — the man who brushes microeconomic cobwebs away from business news, and sprays clarity all over Henry Paulson's wordiness. We'll be talking to him regularly about the most abstruse economics news and terms, helping you understand what's going on as oil fluctuates madly, credit is harder to come by, and the dollar is worth less than a sixth grade love note. Think of him as your economic Valium — not boring, just anxiety soothing. Today, we're talking trade — what the hell does a narrowing trade deficit mean? — and we want to hear what you've noticed, especially if you're in a business that exports stuff. (Stuff is not a technical term. We're talkin' soybeans to airplane engines.) And one more thing! if there's something you don't understand (hedge funds! windfall tax! fungible!) let us know... we'll run it by Adam. We're here to help.