Breaking The Test Bank Wide Open : Blog Of The Nation Looking for a preview of that test you've got coming up in your Intro to Stats class? It just might be online.
Breaking The Test Bank Wide Open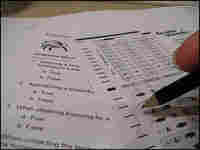 I went to a university with a big Greek population. I found the whole rush process bewildering and kept a safe distance, but I had a couple friends on my hall who saw through the maze. They told me a number of titillating stories about Greek life, but none left as much of an impression on me as the rumor that quite a few of the houses had test banks -- filing cabinets filled with copies of exams given by professors and returned to the students, who then donated them to the banks for future brothers and sisters to "study." I couldn't believe it was true, but you know what? It probably was, and now a former student, who, like me, didn't pledge, has created a more "diplomatic" test bank -- a web site called PostYourTest.com, where students and faculty can post exams from classes around the world for free. So, is this the democratization of the test bank, a way for students who don't join sororities and fraternities to get the same leg up? Or is it cheating, just like paying for an essay?