INVESCO Recap
Last Thursday, [some 80,000 people and] I had the hottest ticket in town: a credential for the last night of the Democratic National Convention, at INVESCO Field at Mile High, in Denver. Here is an abridged:
At 2:30 p.m., Ron Elving, NPR's senior Washington editor; Jordana Hochman and Nicole Beemsterboer, both of Morning Edition; and Sean Bowditch, a producer on NPR's national desk, headed over to the Pepsi Center, to catch a shuttle to the football stadium.
The security line was shorter than we expected (10 minutes). Once inside, I walked down to the floor, where television reporters and producers were a dime a dozen. Ted Koppel, who joins us from time to time, to talk about foreign policy, was there, chatting with his former colleague, Jeff Greenfield.
(Trust me, the conversation was more lighthearted than that picture makes it seem.)
It took hours for the show to get underway. Doors opened at 1:00 p.m., and plenty of people showed up to stake claim to good seats. By 4:30 p.m., the place was almost full.
The crowd -- and the line-up -- were interspersed with celebrities -- from Hollywood and Washington. Will.I.Am, John Legend, and Sheryl Crow played on stage. From our seats, we saw Sen. John Kerry (D-MA), Al Sharpton, and Jesse Jackson.
And Ashley Judd.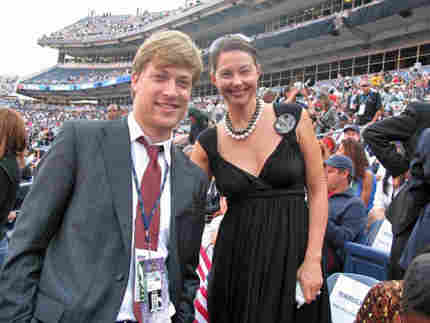 As I told friends afterward, the afternoon and evening went by quickly. It was, as many political pundits said, amazing stagecraft. Music flowed seamlessly into videos into speeches. I can't describe the energy in that stadium when, once the biographical video about Sen. Barack Obama (D-IL) ended, the candidate stepped onto the stage. As I looked around, everyone was on his feet, clapping, yelling, squinting to see him.