D.C. Smells Like Half-Smokes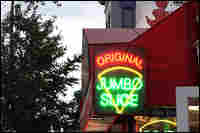 Since I was a little girl, I've always relished the first moment I step into someone's home — with one sniff of my significant schnoz, I could discern so much about who lives there, and how. Mothballs, spaghetti, Glade Plug-Ins (cheaters! They hide the smells that reveal your secrets); the best are the combinations of smells, like lavender from the kitchen cleaner, fresh laundry, and garlic — that's what I imagine my home smells like. Your own is the hardest to figure.
Anyway, there are specific, public places that have particular aromas too, and now they're — where else? — on a Google map. A Japanese website, Nioibu.com, invites users to plot the smells they encounter around the world. The site's not translated, but even if you can't read Japanese, you can glean quite a bit. Further, from the Chicago Tribune article,
The site's nearly 200 registered users — who self-generate the scent dispatches — have produced smell-o-grams from all over the globe, reporting on spots that smell of "steam coming out of a rice cooker," "used socks in the summer," "toasty odor of cow dung" and "cats with halitosis." (These last two come from spots in Japan.)
The U.S. is only sprinkled with reports, including one from Phillips Hall, a dorm at Northwest Missouri State University in Maryville, Mo.
A translated version of the smell club member's description of her dormitory: "American body odor and perfume and so on create the smell of living in American dormitories. An interesting harmony is created. It's kind of a sweet smell on our floor but the boys' floor smells ... not so good."
Perceptive, and evocative. If I were to plot points, two come immediately to mind: Athens, Ga. smells like roasting coffee, thanks to Jittery Joe's*. And Adams Morgan, the party district of D.C., well... It smells like booze, vomit, and pizza. Lovely! So where and what would you plot on the map?
*Coffee's a dominant scent in the U.S., according to one map user.