Is Your Spidey Sense Tingling?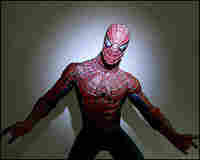 Well, it should be. I officially had my mind blown this morning. Poking around the interwebs for story ideas, I found news that a new Spiderman musical is possibly coming to Broadway this year. Ok, next! But wait. Music by U2! Julie Taymor will direct! From the breathless writeup in The Sun:
Speaking for the first time about the project, guitar lord The Edge has revealed: "It is happening. We've written a lot of the songs at this point. "It's in a pretty good state, and I hope it'll open this year. We're not sure where in the world, but most likely it will be in New York."
Now that's interesting! I dug deeper, lest I fall fall for some sort of bizarro tabloid "news." But Wired had it in the fall, so I think it's OK for me to be completely pumped about this final quote from The Edge. He said the show won't have a full orchestra — it'll still have a small cohort of traditional orchestra players, but "the core will be a rock 'n' roll band." Sweet!