Bernie "Made Off With My Money" Madoff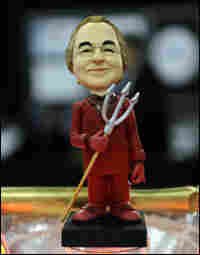 When I was a kid, my dad had a hula girl on the dashboard of our minivan, and a Gumby doll in the cup holder. This post, on The Guardian's Deadline USA blog, caught my eye:
A Phoenix, Arizona toy company is adding to its line of celebrity dolls (which already includes Barack Obama and Brangelina). There's now a devil-suited, pitchfork-wielding Bernard Madoff, sold with a hammer so you can bash him over the head (still, innocent until proven guilty).
The price is a bit steep - but then again, so was investing with Bernie. The $100 (??70) gag gift is sure to show up under the Christmas trees of the few, the proud, the smug, the rich New Yorkers whose portfolios suffered a less than 20% loss this year.
Would you put one in your car?