May 13th Show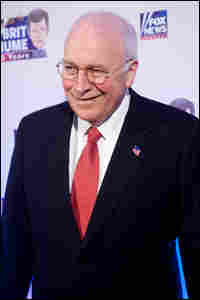 Political Junkie
It's Wednesday, and you know what that means: Another round with Political Junkie Ken Rudin. There's plenty to dig into today, and we'll likely touch on Florida Gov. Charlie Crist's potential senate run, and get into the fallout from the White House Correspondents' Dinner. And, in case you haven't heard, Gov. Sarah Palin's got a book deal.
Out Of The Undisclosed Location: Cheney Makes The Rounds
Former Vice President Dick Cheney was limelight-shy when he was in office, but now that he's out, he's making the media rounds defending the policies he and President Bush enacted.
Life In Rewind: Living With OCD
Ed Zine was held prisoner by his obsessive compulsive disorder, which compelled him to enact "perpetual rewinding rituals" to reverse time and fend off death. Dr. Michael Jenike has helped Ed reach an uneasy truce with his disease, and lead a more normal life. Their book is Life in Rewind: The Story of a Young Courageous Man Who Persevered Over OCD and the Harvard Doctor Who Broke All the Rules to Help Him.
No New Messages, Ever Again
Slate columnist Farhad Manjoo says voicemail is a "backward mode of human-computer interaction." He wants it abolished in favor of more efficient messaging modes, like Google Voice, which transcribes voicemails and sends them to Manjoo via email.