A Fine Romance...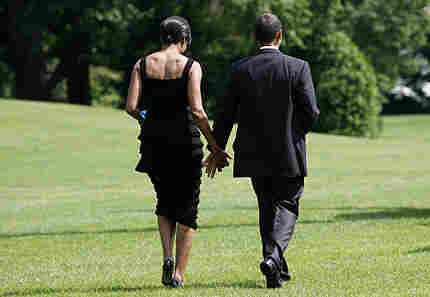 Every morning, when it's time to talk about what people are REALLY talking about — in the supermarket checkout line, at barbecues, in the nail salon — there's always one story that we all, somewhat ruefully agree, is the "talk of the nation," despite more lofty concerns and stories. And while the case of the two American journalists being held in North Korea still continues to create chatter, the two week old story that's still really buzzy is the Presidential date night. The new Camelot couple's New York jaunt left many spouses with a bad case of the 'you nevers.' More sighs at The New York Times.
While some commentators were grousing about the presidential date's undisclosed cost to the taxpayers, news of the romantic evening prompted many wives to glare across the breakfast table, trying to remember the last time their husbands made a fuss over them.
Elbowed sharply in the side, husbands felt betrayed by the commander in chief. On "The Daily Show," Jon Stewart reviewed the Obamas' glamorous foray and screeched, "How do you compete with that?" He warned Mr. Obama, "Take it down a notch, dude!"
It bugs me a little bit that we're still trapped in this notion of the responsibility falling on the husband to plan the night out — it seems so retro. And, as many papers have pointed out, it's much easier to go out if you have a live in babysitter (in the Obama's case, Mrs. Obama's mother). But if retro also means that the First Family is fulfilling our deepest fantasies of a First Marriage, so be it. After all, it gives me an opportunity to check out the First Wardrobe. (Love the dress.)