June 25th Show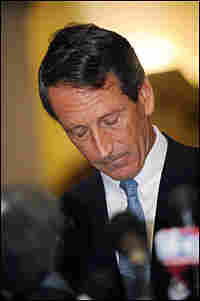 Sanford's Affair: Should We Care?
South Carolina Gov. Mark Sanford disappeared for nearly a week, then reappeared yesterday at a news conference and admitted to having an extramarital affair. While his confession of adultery likely derailed his political aspirations (Sanford resigned yesterday as head of the Republican Governors Association and was considered by some to be a potential 2012 presidential contender) how much should we care about his personal life? When does infidelity become public business?
Advice From One Ambassador To Syria To The Next
The United States is poised to return an ambassador to Syria for the first time in four years. Former Ambassador to Syria Edward Djerejian offers some advice for the next ambassador.
That's So Gay
Name calling on playgrounds is a common occurence. Many kids are taught by their parents and teachers that racial and ethnic slurs are not okay. But calling someone "gay" is still fair game in some circles, and is broadly used by children... and adults... as an insult. We want to hear from parents and teachers in particular. What do you do when you hear a child say, "That's so gay"?