The High Line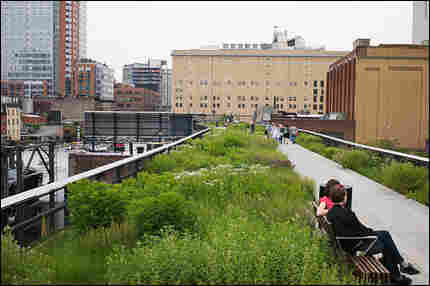 One day, when I lived in New York, I walked from Morningside Heights to the Chelsea Piers Sports & Entertainment Complex, a mammoth structure on the Hudson River, where you can bowl, golf, play hockey, and drink beer. (On that particular afternoon, warm as it was, we did the latter.)
Afterward, we checked out the neighborhood. There are old warehouses, clubs, clubs in old warehouses, and there is The High Line, a stretch of elevated railroad tracks that hasn't been rattled by a train in years.
I was happy to hear, from NPR's Robert Smith, that The High Line has been put to good use: that narrow space, which winds through parts of Manhattan Island, above street level, is a park.
I usually go to Alex Ross, New Yorker critic, blogger, and MacArthur "Genius," for his thoughts on classical music; but this morning, I saw he'd posted a few of his photos from a trip he took to The High Line. Take a look. I can't wait to go.