July 2nd Show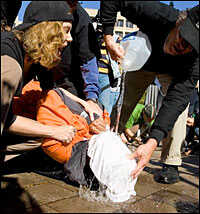 Violence On Your Street
When a neighborhood is struck by violence, the aftermath reverberates throughout the community. People who live in urban and suburban areas talk about how their town or neighborhood reacted to violence, and how it changed their daily lives and relationships.
NPR, Waterboarding And "Torture"
NPR's Ombudsman Alicia Shepard responds to complaints that the network doesn't call waterboarding "torture" and has instead referred to the practice in language like, "harsh interrogation techniques that include waterboarding, which many consider torture."
Doctors Walk A Fine Line On Pain Killers
The deaths of Heath Ledger and Anna Nicole Smith focused attention on prescription pain killers. And many speculate that Michael Jackson was taking pain medication. Even in cases that are not high profile, doctors walk a precarious line in treating patients who are seeking relief from chronic pain. Today, physicians and nurses talk about the pressures they face to manage pain, and monitor abuse.
Infomercial Confessions
It slices! It dices! It... entices! We want to hear your infomercial confessions. Fess up! What product did you buy from infomercials, and why? But wait, there's more.....