September 8th Show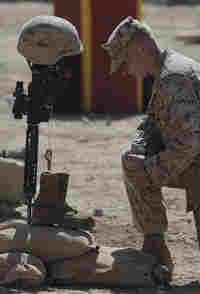 Swine Flu And You
Swine flu already gained admittance to college campuses. At least one school has established a quarantine dorm. The state of Massachusetts is talking about emergency measures. Meanwhile, a vaccine is still being tested and is not due to be available until mid to late October. All this leads to more and more questions about swine flu, safety measures and vaccines to protect us against the virus. Joe Neel, NPR's science editor, will answer your questions about swine flu.
The Surgeon Who Patched Up A Country
Fifteen years ago, British neurosurgeon Henry Marsh went to Ukraine as a visiting lecturer, and found a medical system that was decades out of date and in need of help. A PBS documentary titled The English Surgeon tells the story of Dr. Marsh's collaboration with a Ukrainian doctor and their struggle to save lives and bring hope to their patients.
Photo Fury: Debate Over A Dying Marine
The photo shows a U.S. Marine lying in the mud, fatally wounded after an ambush. The family and the Pentagon didn't want the image published. However, amid the protest, the AP decided to release the image. We'll talk about AP's controversial decision to run the photo, and talk with editors about where they draw the line in deciding to run (or not to run) graphic images of war.
The Meaning Of Matthew Shepard
Ten years after Judy Shepard's son, Matthew, was brutally tortured and murdered for being gay, she believes far too little has changed in America. Judy Shepard talks about her new book, The Meaning of Matthew: My Son's Murder in Laramie, and a World Transformed, and her mission to push Congress to pass a hate-crimes bill.