April 5th Show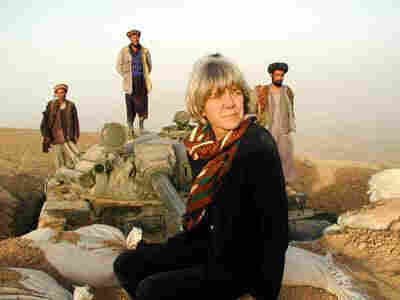 Reporter's Notebook: Anne Garrels
After 23 years with NPR, Anne Garrels has decided to trade the battlefields of Iraq and Afghanistan for the peace and quiet of home. Her posts as diplomatic correspondent, Moscow bureau chief, and roving correspondent took her from Chechnya to Beirut, Kabul to Baghdad, and on reporting trips to Bosnia, Kosovo, and Tiananmen Square, among others. Garrels talks about her announcement last month that she would hang up her spurs, and shares her experiences through decades of groundbreaking reporting.
Release the iPad!!!
After months of anticipation, Apple released the iPad this weekend. Farhad Manjoo, technology columnist for Slate.com, got his hands on one and gives his review of the tablet computer.
The Fight To Replace Justice Stevens
After more than three decades on the high court, Supreme Court Justice John Paul Stevens said this weekend that he "will surely" retire during President Obama's term. Justice Stevens' departure will mean a second, and likely heated, confirmation battle for the Obama administration. NPR's Legal Affairs Correspondent Nina Totenberg talks about Stevens' years on the bench, what his departure may mean for the Court, and if there are clues to possible candidates for his replacement.
Mexico - California Earthquake
Aftershocks continue to shake the U.S.-Mexico border after yesterday's 7.37.2 (we'll ask Richard Harris why the magnitude so often changes) earthquake hit Mexico's Baja Peninsula, rattling cities as far away as Phoenix, Los Angeles and Las Vegas. The quake was the third major earthquake to hit the Western Hemisphere in recent months, and also follows other recent quakes in Turkey and Taiwan. NPR's Richard Harris explains whether one large earthquake can trigger others, and takes listeners' questions about the recent quakes.
NCAA Championships
March Madness comes to a close this week, starting tonight in Indianapolis with the NCAA Men's Basketball Championship. The Duke Blue Devils, a team with one of the greatest programs in college basketball history, faces this year's Cinderella story, the Butler Bulldogs. Then on Tuesday, the UConn Huskies, looking to add to their 77-game win streak, square off against another powerhouse, the Stanford Cardinal, in the women's championship. NPR's Mike Pesca talks about the big games, the big upsets so far, and what each of the final teams will need to do to come out on top.