But Shakespeare Made It Sound So Pretty...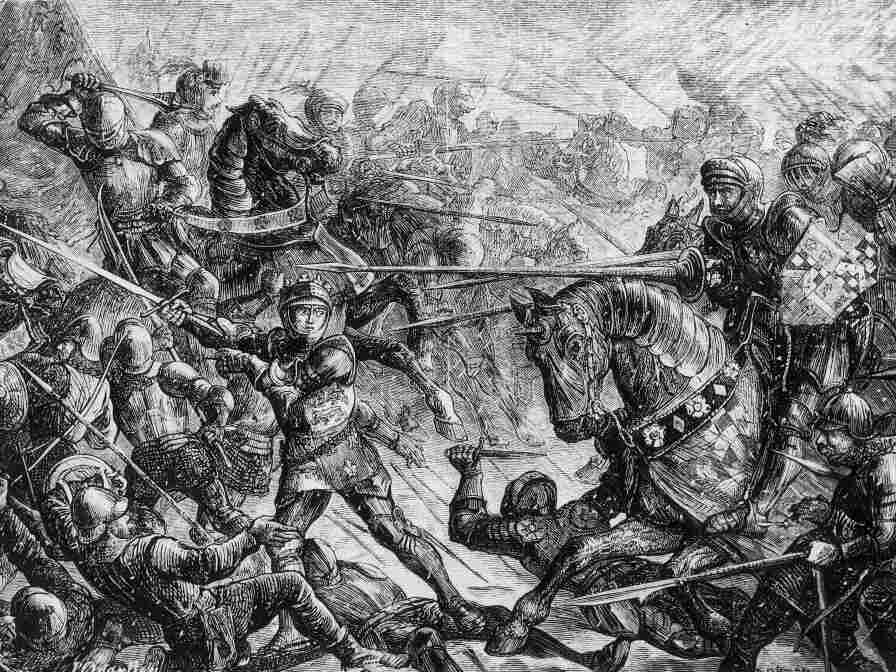 Hulton Archive/Getty Images
For those of you who don't know me at all, I will refresh your memory — I have many guilty reading pleasures, but the one that takes up the most time is my historical fiction obsession.  I've spent so much time in various eras of British royal history that at one point during my pregnancy I was relieved I was having a boy merely because it seemed important to the succession.
Lately I've been spending a lot of time with the Wars of the Roses (henceforth WOTR), so when an article about the 1491 Battle of Towton appeared in the Economist, I was pretty excited that it was NEWS.  Well, sort of.
A mass grave at Towton Hall, was found about a mile away from the main battlefield in 1996, and ever since, researchers and archaeologists have been piecing together what happened.  It's the only medieval mass grave of battle victims found in England... ever.  And, how bad was the battle?  THIS BAD.  (The victims are numbered, hence "Towton 10," "Towton 32.")
By looking at the different ways that bone fractures when it has fluids in it and when it has dried out, Ms Novak found that 27 of the 28 skulls she examined had suffered blows at the time of death. Not just one, either. Both Towton 16 and 25 were struck eight times and Towton 10 six times. Towton 32 suffered no fewer than 13 different blows to the head.

According to Graeme Rimer of the Royal Armouries, Britain's arms museum, medieval weapons had the capacity to decapitate or amputate at a single stroke. "Given how much damage you can do with one blow, why land another 12?" he asks. There were signs of mutilation, too: marks on the left side of Towton 32's head suggest that his ear had been sliced off.
The details in the article are really rough, and Towton may have been one of the bloodiest battles ever fought in England.  (And the winner of the battle, Edward IV only went on to rule for nine more years before there was more bloodshed.  Now, do you know why people loved Henry VIII?  And Henry VII for that matter.) For those of you who don't read the sexy historical novels I do (my favorite WOTR book is Vanora Bennett's Figures In Silk), you might remember Towton from Shakespeare's play, Henry VI, Part 3, which makes it sound... er, not about ear slicing.  In fact, he describes the vicissitudes of war as... a sunrise.
This battle fares like to the morning's war, 
When dying clouds contend with growing light, 
What time the shepherd, blowing of his nails, 
Can neither call it perfect day nor night. 
Now sways it this way, like a mighty sea 
Forced by the tide to combat with the wind; 
Now sways it that way, like the selfsame sea 
Forced to retire by fury of the wind: 
Sometime the flood prevails, and then the wind; 
Now one the better, then another best; 
Both tugging to be victors, breast to breast, 
Yet neither conqueror nor conquered: 
So is the equal of this fell war.
Of course, there was, eventually, a winner.  And it was not the guy who made that speech.  But underneath the ground at Towton lie the real losers... the crushed skulls of the men who fought that day.