Royally Stupid, Royally Vain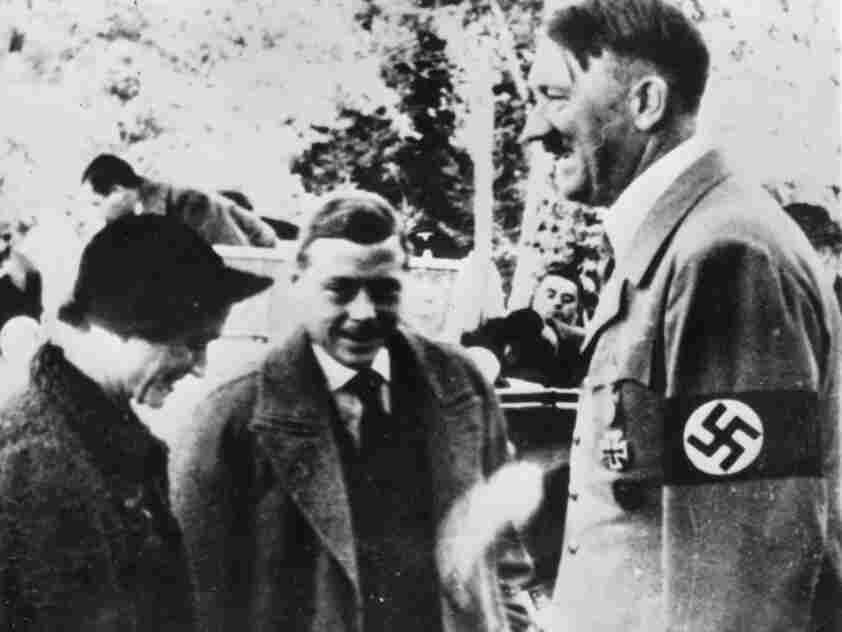 The King's Speech combines so many elements I love that I was clearly destined to love the movie no matter what was historically accurate. British royalty? Check. Speech therapy? Check. Radio? Check. Slow movement, Beethoven's 7th? HELL yes. Colin Firth. Oh, CHECK.
However, I was raised to know the truth at least about the fabulous Wallis Simpson. Yes, that Cartier is amazing, but she was hardly deserving of those jeweled panthers. She was, in fact, a rather awful woman — the Duke of Windsor's butler offers this description of her in a documentary I saw once, "Hard woman. Mouth like a slit." He detested her, and in the movie, she is detestable, as is Edward, but not quite a Nazi sympathizer, which she also was (as was he). (See picture. I mean SERIOUSLY. There are pictures of the two both giving and receiving the Hitler salute on their HONEYMOON)
However, George VI wasn't exactly the paragon he appears to be either, as the inimitable Christopher Hitchens points out in Slate. Neither was Winston Churchill. Of George VI, says Hitchens, "The private letters and diaries of the royal family demonstrate a continued, consistent allegiance to the policy of appeasement and to the personality of [Neville] Chamberlain." Of Churchill, he writes,
In point of fact, Churchill was—for as long as he dared—a consistent friend of conceited, spoiled, Hitler-sympathizing Edward VIII. And he allowed his romantic attachment to this gargoyle to do great damage to the very dearly bought coalition of forces that was evolving to oppose Nazism and appeasement.
Of Edward and Wallis he writes... oh, well, see the gargoyle bit. In conclusion, his assessment of the royal family is short, but sweet.
In a few months, the British royal family will be yet again rebranded and relaunched in the panoply of a wedding. Terms like "national unity" and "people's monarchy" will be freely flung around. Almost the entire moral capital of this rather odd little German dynasty is invested in the post-fabricated myth of its participation in "Britain's finest hour." In fact, had it been up to them, the finest hour would never have taken place.
Doesn't mean I didn't love the fillm and try to stay for a second showing. But, as Bertie points out in the film, if you think highly of the royal family, you might not "have much experience of royal princes."
One more thing, you'll notice I referred to Hitchens as inimitable — and usually I hate that phrase, but in his case, and in a piece like this, he actually is un-imitatable. The article is the most distilled version of Hitchens — brilliant, scathing, perfectly worded, and unequivocally moral. Here's hoping we get more.