Only One Way In, And One Way Out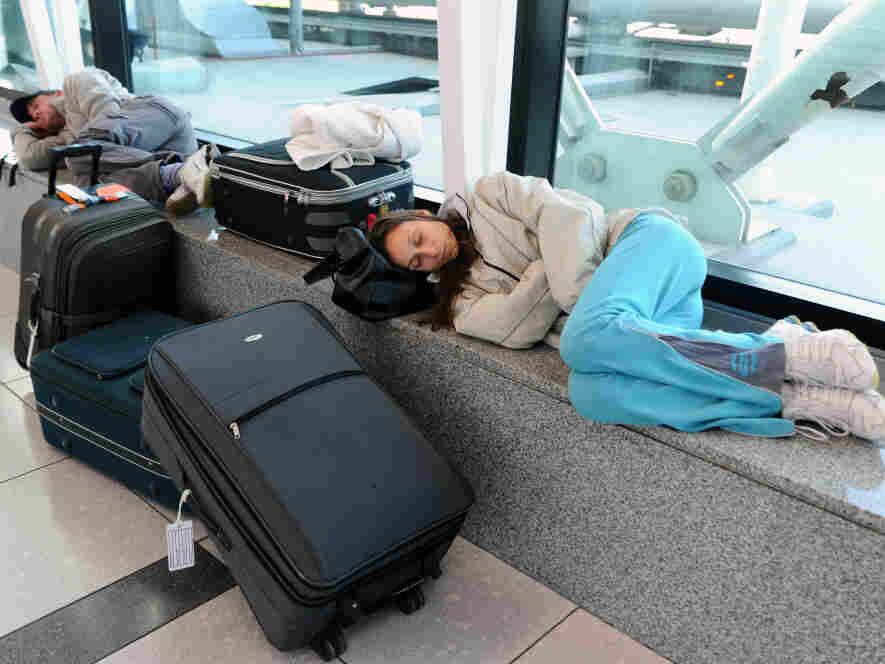 Daniel Garcia/AFP/Getty Images
The holiday weekend has come to a close. For some of you, somewhere, travel did not go as planned. If you were on a flight that was delayed, cancelled, grounded, etc., I'm sure you felt the true weight of this quote: "Airports were not designed to hold people. They were designed to move people through."
Deborah McElroy, executive vice president of Airports Council International-North America, shared these wise words with the Wall Street Journal's Middle Seat columnist Scott McCartney for a piece when all of the crazy snowstorms were happening in January.
I felt the full meaning of this statement last week. I traveled to Aspen, Colorado to produce the Talk of the Nation shows that were part of the Aspen Ideas Festival. Aspen was wonderful, but getting there was quite the journey. As the flight attendant, Linda, put it, "There's only one way in, and one way out."
Only two carriers fly to Aspen, and it's so high up that the tiniest changes in wind or rain or lightning can demolish an itinerary. On the way in, my flight from Denver to Aspen turned back mid-flight and I had to take the 4+ hour ground trip. On the return flight, one flight after another was cancelled because of the weather and I was stuck in a tiny airport for about five hours.
To take up time, one of things I did was Google "what to do when stuck in airport." I found the WSJ piece and some other lists, but many didn't work in such a small airport. (Though I did call my mom, as tripspot.com suggested). Here's a list of things that should be helpful in any situation.
1) Bring a friend.

I understand that this can't really be arranged ahead of time, but having a travel buddy to suffer with was key to maintaining my sanity. I had the privilege of getting stuck with Sean Phillips, TOTN's technical director. We were able to remember the good times in Aspen, complain together, and brainstorm ways that the situation could be worse. Sean also watched my stuff when I went to pace around the airport (which is the size of my living room).
I also got to hang out with Eddie Bocanegra, a violence interrupter for CeaseFire.
I didn't realize just how valuable Sean's presence was until I found myself crying on the plane the next morning. I won't go into the details, but I'm glad I had a window seat. I guess I could have used an airport chaplain.
2) Eat something.
There may be a point where you think you're too mad to eat. I assure you, this is not true. Eating will give you the strength to be optimistic. I could not even think about having hope for the future until the french fries and meat were coursing through my veins. I had to leave the secure area to get food and come through security again, but there was plenty of time! I'm gluten-free and I still found something.
If your stomach is grumbling, you'll be angry and the clock will tick more slowly. Bubble gum also helps.
3) Stay in the now.

I'm not trying to write a self-help book, but trying to do math to see if there's a chance you'll make your connecting flight will not help. Thinking about how you'll find a hotel will not help. These thoughts will not help the plane land or the snow stop or the volcano stop spewing ash.
Turns out, that figuring out what to do when your flight is delayed is a good way to occupy time.
So, hopefully, you've made it to your destination by now, but if you're still stranded, I hope this list helps. If you've never gotten stuck, I can unfortunately say that there will be a time.