A Limit to Leafy Greens ... or ... Enough already!
Inevitably, many of you will write to Talking Plants with your gardening questions. I have good news. You may well find your answers in the Why Did My Plant Die archives.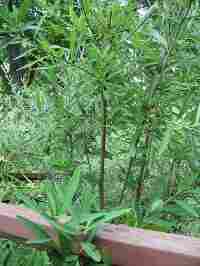 If you don't, the even better news is that we've now got this lively community of folks who've killed so many plants they finally know how to grow them. So I hope you won't go away mad if I beg off doing the answering, and instead defer to dirtier hands and more reliably retentive minds.
Though I would like to ask a question of my own.
What the hell am I supposed to do with an eight year old Embothrium coccineum that absolutely will NOT flower? It's got a posture-perfect upright form and is just the right fit for my entry courtyard, but it's not like I'm hard up for plants with green leaves...
Not that I have any intention of killing it (we've been together too long for such a betrayal), but I will move it come spring if the community so adviseth.