The World According to Elspeth Bobbs
Introducing one of the country's most enchanting — and disarming — gardeners.
After a few hours in Elspeth Bobb's company, amidst so many accounts of the joys and bores in her garden ("Wretched catmint." You don't like it? "I'm not a cat!"), I keep coming back to something her husband once said to her who knows how many decades ago.
"If you weren't deaf, you'd be a menace!"
Indeed, this is a woman who likes to take things on and stir them up. And yes, she's pretty darn deaf.
Even if you listened to NPR's Morning Edition story today featuring Mrs. Bobbs, you'd know nothing of her hearing loss. Somehow, it just didn't seem relevant, given her penchant for turning adversity to advantage. But the fact is, she hasn't heard a human sentence for the last 49 years.
"I can hear birds now, and dogs barking, and people talking," she says, one year after having a cochlear implant, "but I can't hear what they say". Instead, she uses her high tech lip-reading skills for conversation, and draws from memory the colors and nuance of sound.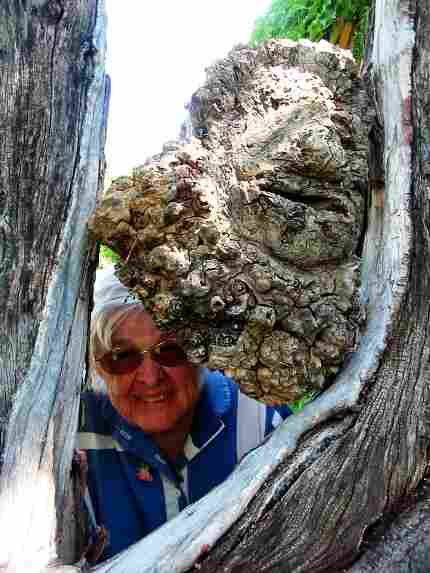 One of Mrs. Bobbs' greatest gifts as a gardener is her perspective: Aim high and enjoy whatever happens. It's a set-up of the cleverest kind; she simply cannot fail.
"Exactly, exactly!" she says. "I don't feel disappointed. For instance, this was all lawn," she says, pointing out a huge area now dominated by art installations, islands of plants and mulch. "After the drought in the 70's, the lawn was an absolute disaster. So we just covered it with plastic and put bark on top. Then I said, well we can't have this, so I thought up something that didn't need water and put in a labyrinth. I like to have a project."
Once the labyrinth was in — an inviting construction made of wood and lined with fine gravel — Mrs. Bobbs was persuaded to dabble in the altogether unfamiliar. She now has a vibrant and colorful undulating sculpture created by Santa Fe artist Hillary Riggs, in the shape of a logarithmic spiral.
"It's all done by mathematical principles," says Mrs. Bobbs. "It's all about patterns. I've had a lovely time with it ".
A quick word about Elspeth Bobb's water use: All her planting beds are under drip irrigation, and she draws from her own well. Several xeric experiments are underway at the garden; working with her gardener and her daughter, she's currently evaluating plants that need no water. Hands down winner to date? Sunflowers.
One last anecdote from my time with Elspeth Bobbs...
While I was taking her picture, she wondered if she should put on her favorite button. Something told me she didn't mean a nice old lady decorative broach. Before I left, she brought it out, a small round campaign-like button. It featured a large scissor cutting through the slogan, "If You Cut Off My Reproductive Choice, Can I Cut Off Yours?"
"I'm sorry to say," this 87-year old spitfire says anyway, "I'd prefer less people, and more gardens".
Check out the slideshow from Mrs. Bobb's garden, La Querencia, courtesy of Scott Varner at the Xeriscape Council of New Mexico.