Fetid Adder's Tongue, Yum!
It is with some guilt that I will continue to celebrate spring-flowering shrubs and bulbs, knowing that your ground may be not even be close to thawing. But during my stay in DC, I've been corresponding with colleagues in Portland, and was sent a pix of this intriguing native plant by Ed Guerrant, Conservation Director for the Berry Botanic Garden.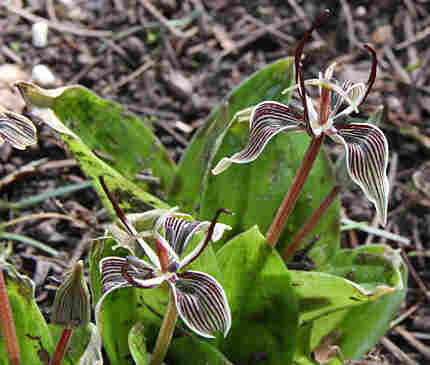 Ed, a terrific native plantsman, was featured in a seed bank story for NPR's Climate Connections series. I asked him to pen a few words on this cool California native.
A plant with flowers like these would be noticeable any time of year, but to find the flowers of this reportedly fungus gnat pollinated plant, it is necessary to wander either into its native habitat in Northern California, or make our February homage to a little patch that has been growing at the Berry Botanic Garden for as long as I can remember here at the Garden (1989). It is sort of our Punxsutawney Phil, but without the predictive powers. Nevertheless, Scoliopus in flower it is a harbinger of the spring to come.
So what's popping your wild or cultivated woods? Got winter aconites, snowdrops, crocus, daffs? How about some bold, blueaceous Chionodoxa? I saw one shimmering blue note of this Glory-in-the-Snow at Dumbarton Oaks yesterday, where the chionodoxa are naturalized in the lawn. If you're in or around DC, check back in two weeks for peak bloom.