The Power of Memory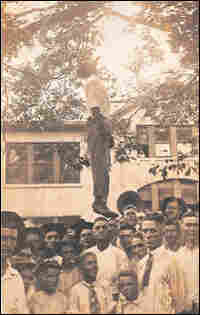 "He remembered things we had never known. How to dress rope-burned skin. How to wire a neck, broken, distended, to make the bones straight again. Arrange the high, starched collar and necktie so they hid the marks that makeup could not conceal..."
-- Ravi Howard, Like Trees, Walking
What's the power of a memory? That's the question we are asking this week in interviews with the authors of two powerful books, both involving lynching. The first, a novel, is quoted above. It's Ravi Howard's debut and it is set in Mobile, Ala., in 1981.
The second, On the Courthouse Lawn, is a nonfiction book by civil rights lawyer and law professor Sherilyn Ifill, who examines lynchings on Maryland's Eastern Shore in the 1930s. Both books cover a subject from our not-so-distant past that we've all heard about, even as fewer and fewer of us actually remember all the gory details.
And that's something both authors wondered about, especially since lynchings in this country were once among the most public of crimes. Why is so little known or discussed about this hideous chapter in our nation's history -- or rather, why is this only a subject known or remembered by few?
Ifill reminds us that, rather than being the work of a few rotten apples, lynchings were literally spectacles: planned in advance, executed in public places with hundreds and sometimes thousands of people watching, including men, women and (sickening to contemplate) children. The entire purpose was to publicly terrorize a community, mainly, it has to be said, the black community. It usually worked. And it's still working, Ifill says. In her book, she explains how and why.
Howard, the novelist, reminds us that this phenomenon didn't end "back in the day." His story is organized around a real event, a lynching in 1981 of a young black man walking home from a basketball game. Howard's novel describes in vivid detail how this random act reverberates through the community. His protagonist is the scion of a local black funeral home whose members were tasked with tending the bodies of victims through the generations.
You can hear my interviews with these two authors on today's News & Notes hosted by the fabulous Farai Chideya. Along with Prof. Ifill, I also interviewed a folklorist and former professor at Salisbury State College (now university), Polly Stewart, who had also researched lynchings on the Eastern Shore. In the aftermath, she found out in very personal terms the cost of breaking the silence about that part of her town's history.
What do you think? We receive so many contradictory messages around opening up the past. On the one hand, we say that those who don't know history are doomed to repeat it; on the other, some say, "Let sleeping dogs lie," and "What's past is past." As Americans, we are critical of countries and cultures that let century-old grievances rule their societies. Yet some argue, as Prof. Ifill does, that we are doing the same thing when we fail to acknowledge the past. Where do you come down on this question?
And while we're at it, what other hidden history fascinates you? Please do let us know.