'Constraints' in Virginia ... And Get Well, Michel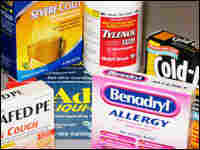 Lee, here...
Michel has come in contact with a rare form of laryngitis ... and, unfortunately, it's left her with limited speaking (and typing) abilities. Yesterday, we made the mistake of encouraging her to blog "openly" about not feeling so hot. Soon after, we received an exclusive Tell Me More pharmaceutical "cocktail." See for yourself.
Message: This program will not be bought by those with "special interests."
I guess there is such a thing as being too transparent.
Now to other news...
Since earlier this summer, we've been following the immigration story out of Prince William County, Va., a suburb about 30 minutes outside Washington. In July, county officials there voted to deny certain services to illegal immigrant residents of the county. According to a report, we're talking anything from services to the homeless to tax relief for the disabled.
Well, yesterday, the bill was shelved due to what county officials are referring to as budget constraints in actually implementing the nationally-scrutinized resolutions.
This brings us back to our summer conversation about this whole ordeal. Some say it's racist. Others say it's unfair for those not born in the U.S. to have equal access to what some might call "special" services.
But what do you think?
Should the county rethink its budget priorities by implementing the resolution ASAP?
Or, was the resolution even fair to begin with?
I'm sure, after learning of the funding barrier, someone out there is saying, "See, God don't like ugly ..." I just know there is. Either that, or, "Those darn budget constraints!"
Where do you come out on this?
Anything similar, or quite the contrary, happening where you live?
In New York, immigrants were fighting for the right to drive ... legally, that is.
Switching up a bit, if you listened to today's Wisdom Watch, you've got to love Rita Moreno. I'm quite a few generations behind her, but still couldn't help but think, "Why haven't I heard more about this woman's full career?" An Oscar, a Tony, a Grammy. Two Emmys? The woman is major. ...And am I the only guy in the room who's confident enough in his masculinity to say he loved West Side Story. I can't always get with musicals, but that one I remember enjoying. I've seen it a few times, actually. So, there!
Tomorrow... More on the jury's decision in the Isiah Thomas sexual harassment case. We have the plaintiff, so listen up...
And get better, Michel.
(Oh, and the above story about receiving a "cocktail" is fictional)