A Mad Dash for Obama
I'm never sure exactly how much people want to know about how the sausage is made ... but I thought you might want to know how we got that interview with Barack Obama yesterday. The short answer is patience. We have a system here where the shows compete for interviews with the people everybody wants. Those interviews have to be discussed with news executives, who figure out which show should pursue and which should stand back. The logical, obvious reason is that the campaigns or the newsmakers should not be bombarded by five or six calls from NPR shows and that we also should not give the power to choose to newsmakers, that is, we shouldn't make it easy for people to cherry pick and decide which of us they like more than others ... let's face it ... we assume they're making decisions based on what's in their best interest, but we should do the same.
Anyway, sometimes it makes sense for more than one show to pursue a guest IF they have different things to talk about and / or IF the interviews might not be on the same stations and so on ... so it was decided we could pursue Obama ... (we had had on Sen. Clinton already ... still like to see Sens. McCain and Gov. Huckabee ... hey guys? LOVE to CHAT).
And so then we started pitching to them. Long story VERY short there ensued a merry chase that began with a call at 8 am, gathering at my house with a TMM team while everybody actually living in my house was still in pajamas ... my kids demanding to know why was I dressed for work on a Sunday and why wasn't I having breakfast with them (oh, the guilt!), a mad dash to Richmond, Virginia, to catch the campaign bus ... turning around at a gas station for granola bars when we realized we would NOT catch that bus. Then a mad dash back to Alexandria, Virginia, a pleasant pause at Starbucks before we realized that the stream of cars, the very thick stream of cars we saw out the window were all headed EXACTLY where we were headed ... a panicked gaze at parking, long long long lines ... Finally we got in to the "event" when we continued advancing our cause ... listened to the speeches ... talked to lots of folks in the crowd ... chated up some colleagues for future guest appearances ... then FINALLY ... a five minute pull aside at the end of the day (the candidate wagon warming up with ALOT of big beefy guys waiting). As I say to my kids when I finish reading them a story ... so that's what happened.
We're thinking about where to go next in this story. We figure that many of you can't read or hear enough about the campaign. And others of you are like, enough already ... are the shows back on now that the writer's strike is over?
We're trying to walk that fine line ... but we also want to call attention to a lovely conversation we had with four friends who all found out they had cancer. A simple suggestion: get the check up on your birthday. All of us can remember that.
See you tomorrow...
PS ... Here are some souvenirs we brought back from our trip. One is official, one clearly isn't. Gotta have fun somehow on those 20 hour days.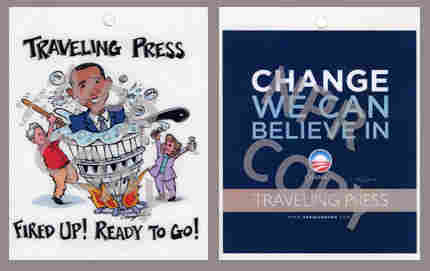 And here's some photos we took (I didn't take any -- Senior Producer Teshima Walker did. My camera though. Glad somebody used it!).
This is Veronica Salazar at the rally. She's orginally from Peru and now lives in Haymarket, Va.
And we just had to show you this one! Amber Moeller lives in Alexandria, Va.