Living the Story ...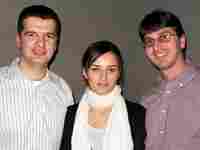 In keeping with our focus on international news on Thursdays -- but doing it TMM style -- we wanted to follow up on two major international stories today. But, we wanted to get away from the "experts." We believe in expertise, we believe in earned authority -- folks who've taken the time to master a subject and put careful thought and attention into it -- but we also believe that we are all experts on our own lives. And so, there are times when we just want to visit with people who are living the story, not studying it.
It's why we went back to Gralen Banks in New Orleans this week to ask him how he's dealing with the news that the FEMA-issued trailer he and his family have been living in might be making them all sick. And it's why, today, we went to two academics who live in Pakistan who were part of street protests against Musharraf's imposition of emergency rule ... and it's why we went to the three young Kosovar-Albanians who are studying here in the U.S. to get their take on Kosovo's move toward independence this week. Are they big names you'd know from The New York Times? No, they aren't. But they are experts on their own lives.
In this historic moment for both countries, we appreciate their take on what it feels like, looks like, smells like. We hope you agree, but we also hope if you have other perspectives, you'll share them with us.
We know, for example, that many (maybe most?) Serbs take a different view of Kosovo's move toward independence. We're interested in that perspective also. You can write to us at out blog or call our comment line (202-842-3522) if you want to be a part of that conversation.
And, just in time for the Oscars, it used to be that girls who got "knocked up" often went "away" to deal with their "situations." How did they deal with it? Well, that's exactly why they went away ... to keep from having that conversation.
But times have changed, and many more women who conceive outside of marriage are not hiding that fact, and are, in fact, deciding to keep their babies. ...
There are so many opinions about what this all means -- opinions by political leaders, religious leaders, sociologists, all of us. And now Hollywood has weighed in with two movies this year, both of them critical and commercial successes; so much so that one is an Academy Award Best Picture nominee. What does that mean?
Our friend, Shawn Edwards, who keeps us up to date on all things film talked to us about the films, but we also came across a book we wanted to share with you that talks about these issues in great detail. It's called Unmarried Couples with Children. Its edited by a professor from Harvard and one from Stanford. They worked on it for years.
It turns out that Knocked Up comes closer to the reality, because couples who have kids outside marriage are far MORE likely to be in their 20's, NOT teens. And, they are, in fact, typically together as a couple at the time of the birth. Most guys don't actually disappear when they get the news. ... And you know what else? The guy is more likely to be happy about the impending arrival than the woman, which is actually true in the film. Go figure. The non-reality part of it is that, in real life, the people most likely to have kids outside of marriage are less economically privileged than Katherine Heigl and her (er, what is he?) boyfriend in the film.
Anyway, there is so much more to this story than we had time to talk about today so we will probably return to it. But, let us know what aspects of this story interest YOU ...