How Far Is Too Far?
So, if you haven't seen the cover of the latest New Yorker magazine by now, here it is: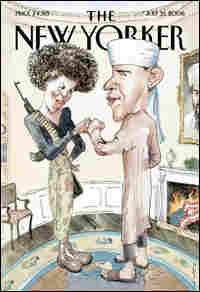 Folks are upset. Blogger/journalist Richard Prince talks about just how upset folks are in his daily online blog column Journal-isms.
We thought: Hey! Why not have him on the show to talk to us about this?
Great idea.
And, do you remember Emerge magazine? Now out of publication, it used to regularly push people's buttons. To the left is one of its most famous, or infamous, "hits."
George Curry was the Editor of Emerge and now writes a column for the Philadelphia Inquirer and the NNPA.
So, George, what about the New Yorker cover? What's fair game?
Let's ask him.
Also, tell us what you think. How far is too far for satire?
And, the Mocha Moms. It's TMM Cheapskate week, so today we discuss talking to the kids about cutting back. We have some regulars back with us -- Donna Maria Coles Johnson last talked to us about coupon-ing. Now, she's back with more tips on how to cut back, and get the kids on board without traumatizing them. And, of course, Jolene Ivey and Dani Tucker always have good sense.
... As do our O, The Oprah Magazine ethics panelists. They discuss what to do, and say, in those awkward moments.
And, our money guy Alvin Hall weighs in on debt collectors. Hey, we hope you never need to know this stuff, but if you ever do, at least now you're ready!