Wall Street: What to Make of This?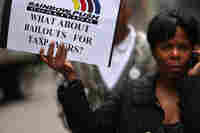 I'm back in the office after a terrific quick visit to Smith College (having forgotten how college kids dress, I felt slightly inappropriate without more piercings ... and why did I feel the need to wear pantyhose and pumps?).
But now that I am back, I find that I have more questions than I can answer in one sitting:
Where's the pain? Who's feeling it?
Lehman Brothers is going bankrupt and Merrill Lynch has been sold.
The CEOs of Fannie Mae and Freddie Mac are out.
No golden parachutes for them.
What about the employees, especially those close to retirement?
(Full disclosure: I have a member of the extended family who works for Fannie Mae, but he is so young -- so far from retirement, and so far from the front office -- it's hard to see the long-term impact on his career. In other words, it ain't his fault!)
Are you buying a house? Trying to sell one? What's it like? A childhood friend of mine is trying to sell her family home so she can use the proceeds to help support her father's long-term care. The sale just fell through, but why? Did the buyer's financing fall through or did he/she just get cold feet looking at the headlines?
Are you a small business owner? If so, are your credit lines in jeopardy?
Are you trying to START a small business, or restart one? And what about rebuilding after the recent hurricanes?
We want to know what's happening on the ground, whether that ground is Wall Street, or the proverbial Main Street. (And we interpret Main street perhaps more expansively than some might.)
What's your story? What are your questions? If there's something you just don't understand about what you're reading and hearing, let us know. Chances are we want to know also.
Finally, in memoriam: Nancy Hicks Maynard. She died over the weekend at the age of 61. She was a major and, in my view, an underappreciated figure who advanced diversity and excellence in the media. We did not have an opportunity to tell you more about her accomplishments today and we hope to do so later in the week.