Jennifer Hudson's Loss Magnifies Chicago's Crime Problem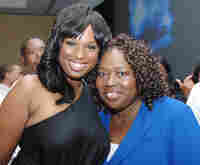 Another long day here. As many are, we're still trying to wrap our minds around actress Jennifer Hudson's recent tragedy -- the murdering spree that claimed the lives of her mother, Darnell Hudson Donerson, her brother, Jason Hudson, and her seven-year-old nephew Julian King.
In the absence of the recent high-profile murders, few may have known that Chicago's murder rate outnumbers that of both New York City and Los Angeles, cities with far more residents than the Windy City. Some say Hudson's devastation, albeit unfortunate, brings long-awaited national scrutiny to Chicago's crime problem.
We talked about this today with NPR's Chicago-based correspondent Cheryl Corley (a.k.a. frequent TMM guest host).
Other developments ...
It seemed like the end of a soap opera, or a really bad movie, when we were alerted to news that former Detroit Mayor Kwame Kilpatrick would begin his jail sentence today. He pleaded guilty last month to purjury charges in a scandal that rocked the city.
WDIV-TV in Detroit has video of Kilpatrick being sentenced today to 120 days in jail.