The Party Is On
How is everybody? I know Mondays are not the easiest. However, we at Tell Me More, have something special to celebrate this week that will, hopefully, make your Monday brighter. As Michel mentioned in her commentary today, Thursday is our second anniversary. And to celebrate this special occasion, we wanted to throw a virtual party, where we can all share our most favorite — happy or sad, fascinating or shocking — Tell Me More moments from 2008.
So, first on the line is one of our producers, Jasmine Garsd: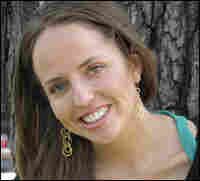 One of my favorite stories to have worked on is the one that is airing today on Homeless Families. That's for our weekly Behind Closed Doors segment, which I am responsible for. In this segment, we explore issues that are not generally discussed due to stigma or shame. Topics have ranged from prison rape to abusive teenage relationships. Our conversation on Homeless Families is a prime example of what Behind Closed Doors is all about.
This recession is a watershed moment in American life. Much like during the Great Depression, I expect it to bring out the best and worst in journalism — and I think segments like the one on Homeless Families is what Tell Me More is all about. If people are suffering and no one is nearby to acknowledge it, it doesn't mean that suffering does not exist. It's our job as journalists to make sure that sound is heard...
Thank you, Jasmine.
As I wrote earlier, this is a virtual party. We are all invited, so please share with us some of your favorite moments, or tells us what you think we can do better. As we like to say here ... please, Tell US More.
And coming up soon, Michel will share her thoughts on today's program and our web producer Lee Hill will have more of the staff's favorite moments of the past year.
So, stay tuned ... Cheers!