Tiger Woods And The 'Barbie Thing'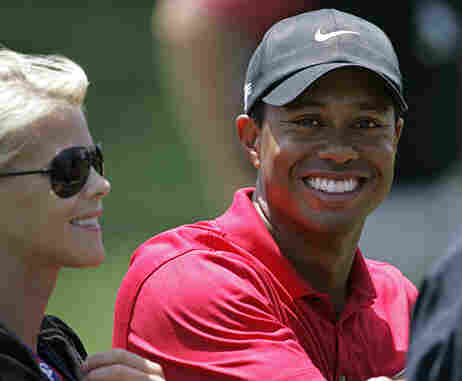 Today, once again, our Barbershop roundtable brought its own unique spin to the news of the week. They took the conversation from world events to the water-cooler, covering President Obama's acceptance of the Nobel Peace Prize, the arrest of five young Americans suspected of terrorist sympathies in Pakistan, and the continuing saga of Tiger Woods.
That last story was one reason we were especially happy to welcome Pulitzer Prize-winning Washington Post columnist Eugene Robinson into the shop this week. He joined our regular guests: journalists Jimi Izrael, Arsalan Iftikhar and Ruben Navarrette.
On Tuesday, Robinson "went there" on the Tiger Woods story. In a column titled "Tiger's Validation Complex," Robinson asked "What's with the whole Barbie thing?" He offered a thoughtful argument about what the champion golfer's taste in girlfriends -- old-school Barbie hair, proportions, and (yes) skin color -- might say about his character.
Robinson writes, "the world is full of beautiful women of all colors, shapes and sizes -- some with short hair or almond eyes, some with broad noses, some with yellow or brown skin. Woods appears to have bought into an 'official' standard of beauty that is so conventional as to be almost oppressive."
I really enjoyed the column, and like Robinson, I'll admit this right up front: I don't know why Tiger Woods seems to prefer white women. All anyone can do is speculate. It's quite possible Tiger himself doesn't know. Maybe all these women remind him of a girl he had a crush on back in eighth grade who wouldn't give him the time of day. Or, maybe he's internalized American society's belief that white women are more attractive and valuable.
But personally, as an African-American woman I'm happy that there are no black women in the ever-growing line up of Tiger's alleged girls on the side. I'm jump-up-and-down, spontaneous cartwheel, ring a church bell overjoyed. The Woods story has something in common with a lot of blockbuster Hollywood films; there's not a single part in it that any self-respecting woman would want to play -- not the Vegas vixens, the humiliated wife, the heart-sick mother-in-law, or the fallen star's own silent mom.
When a man crashes in a spectacular, sordid mess the way Tiger Woods has, somehow all the women in his life -- the villains and the victims -- are subjected to an endless parade of unflattering photos of themselves in supermarket tabloids, and an encyclopedia's worth of unsolicited advice.
As a black woman, I don't see myself anywhere in this picture, and I'm so glad.
EDITOR'S NOTE: The headline and wording of this posting were revised after it was published. Some of the comments here refer to to the original wording.