Say It Ain't So! What's A Jets Fan To Do?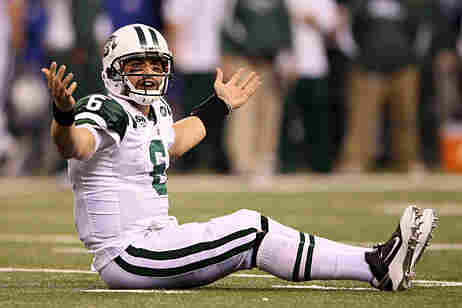 Speak softly today. I am still feeling a bit tender about my New York Jets who got WAXED in the playoffs over the weekend. (Sorry, I just need a minute to compose myself.) Yes, I know the Colts are all that. And Peyton Manning is the man, and I know that's a good story, too. And I'm happy for the New Orleans Saints. That NFC game was exciting.
And yada yada yada. Okay, so fine.
On the bright side, I won't have to spring for all that Jets gear I was planning on to outfit myself and the twinnies.
Yes, it's a distraction, I know. I know there are more important things. And we continue to talk about those more important things ...
For starters, should more Haitians be permitted to come to the U.S.? A surprisingly diverse group of people is advocating that the U.S. liberalize immigration status for Haitians who wish to come here in the aftermath of the earthquake tragedy. Elliott Abrams, a former official in the Reagan and George W. Bush administrations, offered a piece in The Washington Post this weekend, as did scholar Michael Clemens, who was on the program today (Abrams was not available, in case you are wondering). We also were joined by Doris Meissner, a former INS commissioner.
We're also thinking about another story in The Washington Post by Juan Forero about how Venezuelan President Hugo Chavez ordered cable providers Sunday to stop showing the popular television station RCTV because they violated a regulation requiring broadcasters to televise Chavez's speeches in their entirety.
As always, we are seeking the right balance and we are looking ahead to President Obama's State of the Union speech on Wednesday night, which NPR and the major nets and cable outlets will, no doubt, be airing (without coercion, I dare say ... at least I hope so).