With Movies About Radio, Art Imitates Life
Jimi Izrael is the author of The Denzel Principle: Why Black Women Can't Find Good Black Men and a regular contributor to Tell Me More.
Radio is a tough business – just ask Juan Williams, Ron Schiller and Vivian Schiller. On its face, radio might seem glamorous and there are those moments, I suppose. But mostly – and I mean behind the scenes – it is a business rife with the kind of stress and dramatic conflict that movie-makers love. Radio can make for compelling cinema so without any further ado, I give you my Top Five Movies on The Radio.
The Brave One – Radio host Erica Bain unravels on-air as she copes with the murder of her fiancée. Jodie Foster is incredible as the lefty hipster talk-radio host turned Bernie Goetz-style vigilante. Terrence Howard as Detective Mercer walks on and off screen at predictable intervals.
Network – Man vs. The Machine, this film remains the gold standard dramatization of the disintegration of modern media. Anyone who has worked in a newsroom has had a moment when they are mad as hell and won't take it anymore. Then they wake up and go to back to work.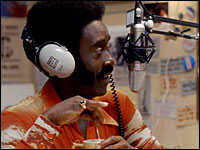 Stephane Fontaine/Focus Features
Talk To Me – Don Cheadle is Ralph "Petey" Greene radio the voice of 60s-era black proliteriate, the kind of guy you liked to hear in a chair in the Barbershop, sans his blue repartee. Roots, radicals and radio, the way it should be.
Play Misty For Me — Clint Eastwood plays a DJ who learns the hard way to get his playtime and his paycheck in two different places. That's after one of his groupies goes Sheen on him and tries to make his life hard.
The Warriors – Lynne Thigpen lends her sexy radio voice to chronicle a wayward gang's journey through the wilds of 70s-era New York City. It's a film version of the novel, "The Warriors," writer Sol Yurick's retelling of an ancient Greek story.
Pirate Radio – Philip Seymour Thomas stars in this true-ish story of band of unwashed ne'er-do-wells broadcasting illegally from the North Sea, a business model NPR might want to consider, given current events.
Tune in next time.
Same time. Same station ... I hope.