Lollapalooza Investigated By Illinois Attorney General
Lollapalooza Investigated By Illinois Attorney General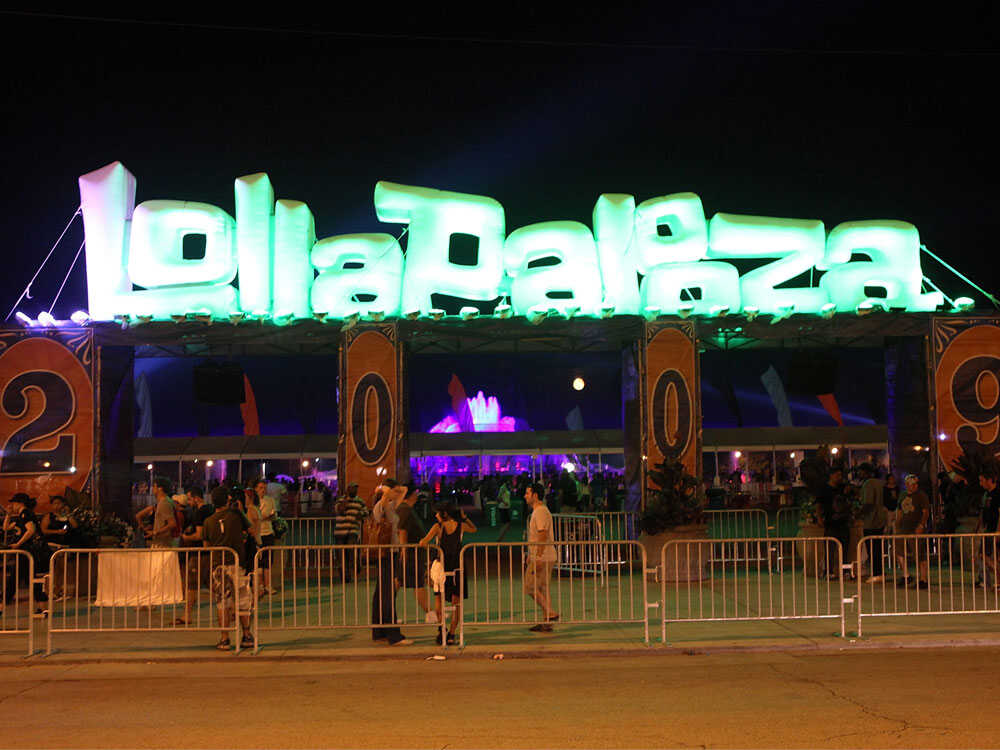 Roger Kisby / Getty Images
Music fans converge on Chicago this weekend for Lollapalooza. The festival draws more than 100 bands and thousands of music fans to the shores of Lake Michigan. But Illinois's Attorney General apparently isn't one of them. Her office is looking into claims that Lollapalooza's exclusive contracts make it harder for other Chicago promoters to book bands well beyond the three days of the festival.
The upscale club Lincoln Hall attracts local bands and touring acts like Blitzen Trapper and Jimmy Webb. But lately, booker Matt Rucins says he's having a tough time finding bands that can fill Lincoln Hall, which holds 500 people, and his smaller club, Schuba's. "In the summer as a whole," he says, "the festivals hurt."
When bands play at Chicago's numerous summer festivals - from Pitchfork to neighborhood street festivals - Rucins says their contracts often prohibit them from playing club shows around the same time.
"There's numerous bands playing any festival that if it was fall or spring or winter, they'd be headlining at Lincoln Hall, " Rucins says. "So the number of quality bands nationally and locally dwindles."
That's because of what's known in the music industry as a "radius clause." They're not new or unique to rock. Most promoters insist on them, including the producers of heavyweight festivals Coachella and Bonnaroo. But critics say Lollapalooza is taking the idea to extremes.
Jim DeRogatis is a Chicago blogger and co-host of the public radio show Sound Opinions. "It's huge. It is by far the most egregious of any radius clause," he says. "Lollapalooza says you can't play for a total of 9 months in the market – 6 months before and 3 months after. And they define the market as 300 miles around Chicago: that includes Madison, Milwaukee, Detroit, Ann Arbor."
Earlier this year, DeRogatis broke the news that Illinois Attorney General Lisa Madigan opened an investigation into Lollapalooza's radius clause. He then followed up with an analysis of the investigation and speculation about who the complaints might be. Madigan's office declined to comment. But DeRogatis isn't so shy.
"You have this festival that lasts 3 days. And ties up many of the acts for nine months," he says. "The impact has been pretty devastating to clubs and theaters that are here 365 days a year."
Lollapalooza is produced by C3 Presents in Austin, Texas, which also declined to comment for this story. But not everyone in the local music scene is so quick to criticize Lollapalooza. David Viecelli is president of the ironically-named Billions Corporation, a booking agency that represents dozens of bands, including a few on the bill at Lollapalooza. He says radius clauses may look bad on paper, but promoters are often willing to make exceptions.
"You can go back to the promoters and say, 'I've got this show I'd like the band to do. It's a small club. What do you think?' " Viecelli says. "In general, most people will be easy going about that stuff. And C3 included."
Viecelli says the level of flexibility depends on the band. So while Lollapalooza isn't going to let headliners Lady Gaga or Green Day play another show in Chicago this fall, the promoters might look the other way for an up-and-coming band that's playing the festival at, say, one in the afternoon.
The band Wavves is playing its early afternoon set Friday at Lollapalooza - and a festival-approved "aftershow" on Saturday night at the Empty Bottle, a local rock club. Owner Bruce Finkelman isn't thrilled by Lollapalooza's restrictions. But he does have some sympathy for its producers.
"While I certainly don't enjoy limitations on my business," he says, "I kind of appreciate that if I was gonna put up a crap-load of money, I think I'd want to put as many restrictions as possible to make sure my festival is successful."
After-shows do help salvage this weekend, says Rucins, the booker at Schuba's and Lincoln Hall. But there are plenty of other nights this summer when his clubs won't even open their doors.
"Sometimes it's just a safer bet to be dark," Rucins says. "And look on into the fall, and be like, 'Everything's going to be fine then. We've got shows seven nights a week, they're all strong, and there won't be all this massive competition.' "
But if you're near Chicago and want to catch one of the big acts at Lollapalooza without buying a $90 ticket, you might have to wait until November.