Ticketmaster Makes Changes But Keeps Charging The Same Old Fees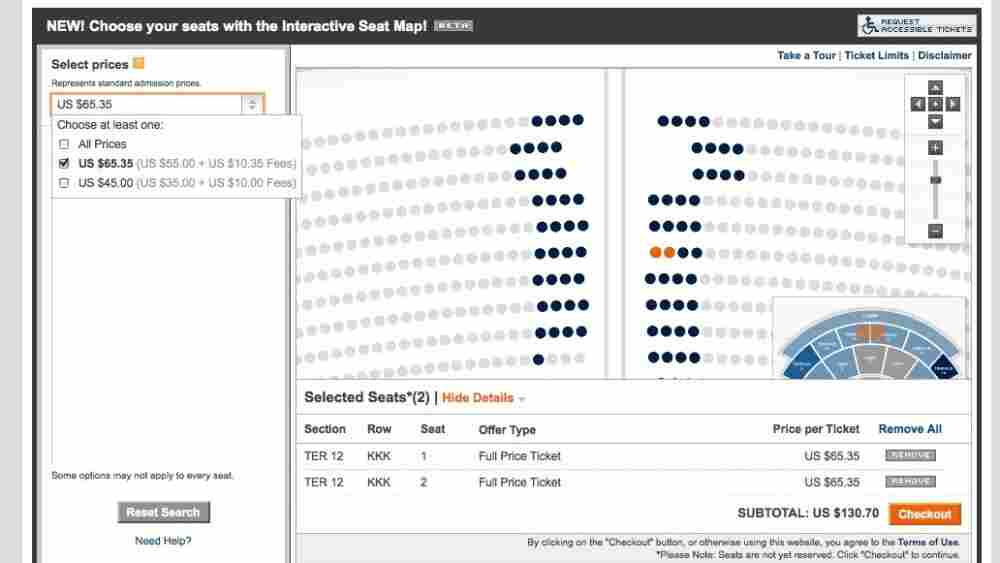 Back in July, when Live Nation informed its investors that it would be pulling in at least 10% less money in 2010 than it did in 2009, the company acknowledged that it had to change the way it sold tickets, or continue to reap  diminishing rewards from bitter music fans.
Yesterday Ticketmaster, the company's ticketing arm, launched Ticketology, a new blog. And an initial post gives an indication of how Ticketmaster intends to win fans back: by showing them exactly what they're paying for a ticket.
"We get it -- you don't like service fees," wrote CEO for Ticketing Nathan Hubbard on the blog.
So, wait, is Ticketmaster getting rid of fees?
Nope.
"You don't like them mostly because you don't understand what the heck they are for," Hubbard continues. And Ticketology will "try to do a better job in this space over the coming months of helping you understand our business."
So besides its new role as public educator, how exactly is Ticketmaster changing?
1. "Transparent" Ticket Pricing
This is the big one: when you click on a seat at a concert you might want to attend, Ticketmaster's new interface will show you "how much you can expect to pay for a certain ticket."
"The problem is that historically we haven't told you how much you have to pay for a given seat until very late in the buying process," Hubbard writes. "And our data tells us this angers many of you to the point that you abandon your purchase once you see the total cost, and that you don't come back. The data also says (and this is the important piece) that if we had told you up front what the total cost was, you would have bought the ticket!"
But as Hubbard acknowledges, even the new system can't give you the complete price for a ticket -- it can't incorporate delivery fees or processing fees per ticket until after you click through. (In a random search, a single ticket for Lady Gaga's August 30th show in Saint Paul would cost an extra $8.05 after delivery and processing fees -- plus additional taxes -- were added.)
For some venues, the new ticketing system will also incorporate an interactive seat map (see image at the top of the page) where users can see exactly which seats at a venue are still available for purchase. This innovation was actually introduced last December, but suspended some time during Live Nation's difficult summer. We're not saying the maps went away because you could see how many unsold tickets were still available at overpriced shows, but it's pretty easy to connect those particular dots.
During the investor meeting in July, Hubbard promised that Ticketmaster was "100 per cent committed" to phasing out print-at-home fees. Based on that random search for Lady Gaga tickets, it looks like the company hasn't quite arrived at the phasing out phase. Printing at home still costs $2.50 per order.
2. A New Return Policy
Restrictions up front: Ticketmaster does have a new return policy but (a) it only applies to tickets purchased for shows at Live Nation-owned venues; (b) you can only return within a three day window of the original purchase, (c) but not during the final week before the concert.
"We're not pretending we have this perfect," Hubbard wrote in the Ticketology post. Setting ticket prices is a complicated process, which makes offering a "no-hassle refund policy" an impossibility, according to Hubbard. "But we have to try something."
3. Ticketology, A Blog!
If Ticketmaster is turning over a new leaf, Ticketology is its goodwill ambassador to the world of music fans. But who's going to read Ticketmaster's blog?  Fans? It seems much more likely that the blog's readers will actually be the journalists and bloggers who cover the music industry.