MTV Loves MTV: A Bad Romance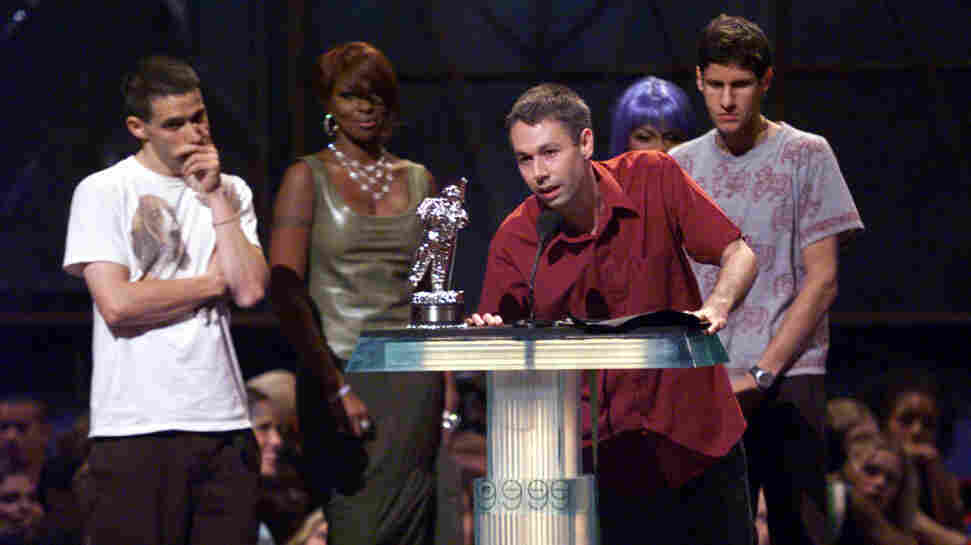 I hope I don't spoil anything by revealing that occasionally, when an NPR reporter interviews an aging news maker or cultural figure, that interview will be archived and revisited when it comes time to prepare the subject's obituary. It's a ghoulish but necessary part of the business.
This thought kept nagging at me this morning as I flipped through the coverage of last night's Video Music Awards. Every year, MTV sells their awards as a can't-miss event during which a new platoon of stars will stand up and take their place in pop Valhalla, megastars will reassert their relevance, and someone will do something stupid and outrageous that everyone will talk about on Monday.
But as genuinely exciting as it can be to see some performers rise to the occasion, I get the impression that what MTV really wants from the VMAs is material for its clip shows.
This year's show marked the passage of time and trends as well as any. Justin Bieber performed a medley of hits and won his first VMA, for Best New Artist. Lady Gaga wore a hat made out of meat (does Patton Oswalt get a designers fee?). And Taylor Swift and Kanye West spent the evening handcuffed to the only moment of the 2009 VMAs that anyone seems to remember. Figure each of these moments will make its way into the MTV vault, to be spliced in next to Madonna kissing Britney, Michael kissing Lisa Marie, and Eminem threatening a puppet.
None of the overwrought nonsense of last night and years past holds a candle to the best VMA moment I've seen in the last few weeks. Last week, Kathleen Hanna, of the bands Bikini Kill and Le Tigre, perhaps in a fit of nostalgia prompted by MTV's promotion of this year's awards, posted a video of her then boyfriend (now husband), Adam Horovitz, a.k.a. Ad-Rock of the Beastie Boys, giving an acceptance speech at the 1999 VMAs. He gets down to business at about 1:40 into the video.
That show was just months after the disastrous 1999 version of Woodstock, an event now remembered as much for reports of sexual assault and widespread destruction of property as the music that was played. On stage to accept the award for best Hip-Hop video for "Intergalactic," Horovitz pleaded with his fellow musicians in the room to make a change in the way they treat fans at concerts; to pledge to talk with promoters and security to ensure "the safety of all the girls and the women who come to our shows."
What shocked me about the speech was its proximity to another moment that's become an emblem of the kind of show that MTV clearly wants the VMAs to be.
In the video, check out the trio that presents the Beasties with the award. It's Mary J. Blige, Diana Ross and Lil' Kim, adorned in a purple bodysuit and a "pastie" that, if you've watched any of MTV's self-promoting clip shows in the intervening decade, needs no further description.
MTV has played the clip of Ross fondling Kim's boob probably a billion times in the decade since, but Horovitz's speech has pretty much been wiped from the channel's memory. In her blog post, Hanna wrote that the band left "5 minutes after this because it was so far beyond the 'who farted?' feeling, it felt like people were gonna kill us."
Watching the clip, you can tell. Horovitz's comments play pretty much to stunned silence. Diana Ross, clearly afraid that he's about to crucify himself on a live microphone, awkwardly walks over to the podium and picks up the statue that's just inches away from the rapper, and puts it in his hand, saying "This is for you, baby." Ad-Rock smiles weakly at her and soldiers on.
In her post Hanna calls the speech "punk rock/performance art," but watching again, it feels more human, less planned, than that. It must have been incredibly awkward to sit through -- listening to entertainers moralize often is. You can almost hear the record scratch when Horovitz asks the silent audience if they're still there. You understand why this particular audience, there to celebrate winning videos by Will Smith and Fatboy Slim and Ricky Martin and Korn (but also Lauryn Hill), might feel like they're getting pranked, and why MTV (which covered Woodstock '99 heavily) might have initially swept it under the rug.
But the speech is astonishing, a moment that reveals pop culture turning a corner, from a band that had made the turn already. (Remember that the Beastie Boys themselves rose to fame with early videos that contained no shortage of misogyny.) That the speech abuts another unplanned moment that reveals almost nothing about the era in which it occurred, and that we know which one the network chose to repeat ad nauseum, is MTV's failing.
Not that the correct moment needs to be the one that's less sexy. The network whiffed on last year's truly iconic bit of staging as well, picking Kanye vs. Taylor over the ornate, creature-y, blood-soaked version of "Paparazzi" by Lady Gaga, a performance that marked the moment when many previous skeptics (this writer included) moved to her corner.
Because they air on a network obsessed with writing its own story via its programming, the VMAs are just a really long commercial for next year's VMAs. But MTV is writing the wrong story. Reports of the network's demise are now so familiar that suggesting this year's flogging of the '09 Kanye/Taylor "fiasco" would damage the network feels naive and short-sighted. Maybe it's just that MTV has been writing its own obit all along.