Do Reviews Tell You What You Want To Know?
A few items inevitably appear in most coverage of the DJ who calls himself Deadmau5: his real name (Joel Zimmerman), his background (Canadian, self-made), his cantankerous attitude toward the press ("Interviews make me feel awkward," he tells Billboard. "Half of the stuff they ask, they can Google it."), his trademark costume (see above), and the pronunciation of his moniker ("dead mouse" -- as if "dead mow five" were a reasonable interpretation).
The consistency probably has something to do with the recent emergence of Deadmau5 into mainstream awareness. A critic's job sometimes involves introducing a musician to an audience, and occasionally justifying that introduction -- especially when the musician operates in a genre on the edge of American pop culture. Deadmau5's ascent has been driven by reports of thousands of rabid fans at his gigs around the world, as well as appearances in entertainment programming like the MTV Video Music Awards, during which he played house DJ, and Gossip Girl, where he played a house DJ at a fashion show.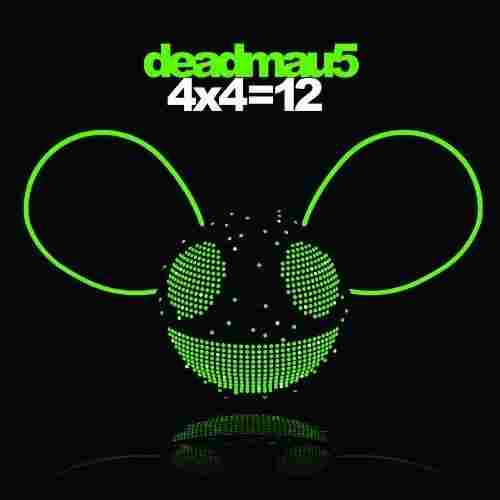 This week, Deadmau5 releases his third collection of music (much of it previously available in slightly different form), 4x4=12, and in reviews of the album a new theme emerges. The question rattling around in the oversize mouse heads of music critics: Is this the moment when Deadmau5 becomes something bigger than a house DJ, or is his music just for glowstick-addicted dance floor junkies?
4x4=12 is his third album as an artist-producer, and it's aimed beyond Electric Daisy Carnival's forest of fuzzy bras and platform boots.
For Canadian deckmeister Joel Zimmerman a/k/a Deadmau5, the high profile gained through an electrifying live act of "progressive" house (and the gimmicky attention paid to his Day-Glo, Residentsy mouse-head uniform) merely raised expectations for his third long-player. The result may surprise some just looking to get lost in Glowstick Land: sure, there are plenty of K-hole zone-outs, but just as often Zimmerman puts songcraft and danceability ahead of the usual sci-fi-filter tricks.
[T]he collection employs the Deadmau5 sound in fresh ways, with more energy and more nuance … If his earlier material relished in the joy of sound, these tracks explore something deeper and more emotional.
All this will work so much better alongside dazzling visuals (and a giant mouse head) in his live show, which he's touring around the UK this month.
Something like the Wolfgang Gartner collab "Animal Rights" would be useless for anything other than a car commercial in the hands of a lesser producer, but deadmau5 manages to construct a funky, sexy, milkshake-thick track from its clichéd parts. The eight-minute "Right This Second" pairs nothing more than a typically '80s-ish buildup synth and feathery chorus with classic slip-sliding house beats. ... As dedicated, efficient, and resourceful as Deadmau5 is, he's ultimately unable to escape the severe limitations of his craft, and therefore can't elevate 4X4=12 beyond standard club fare.
If you're going to cross over beyond the dance-music world, having a trusty gimmick helps. Just as Daft Punk are robots, Deadmau5 -- born Joel Zimmerman in Toronto -- is, well, a mouse: He takes the stage in headgear so cartoon-cute it could have been devised by an ad firm.  … [4x4=12 is] as close to straight-up pop music as the genre generally gets without actually being song-based much of the time. He just doesn't bring any interesting ideas or flourishes to his well-trod formulas, whether it's the big synth whooshes and glam-rock-stomping schaffel beat of "Right This Second"; the half-baked verses from guest vocalist Greta Svabo Bech; the by-the-numbers, wobbling-bass dubstep coda of "Raise Your Weapon"; or, on "Cthulhu Sleeps," a record-scratch-like synth line that heavily recalls Armand Van Helden's "Necessary Evil" or DJ Dan's "That Zipper Track."
4x4 is a breakthrough album that doesn't feel like a breakthrough album. Not accessible or crowd-pleasing enough to court non-electronic music fans, not adventurous enough to satisfy die-hards, it pleases, but it rarely dazzles.
It's not surprising that critics build narrative tension into their reviews, especially when the music being written about doesn't involve lyrics that can be mined for substance. But as a reader, do you get what you want out of this kind of effort? Do reviews like this tell you what you want to know about the actual sound of Deadmau5's music?