Don Van Vliet, Known To Rock Fans As Captain Beefheart, Dies
Don Van Vliet, Known To Rock Fans As Captain Beefheart, Dies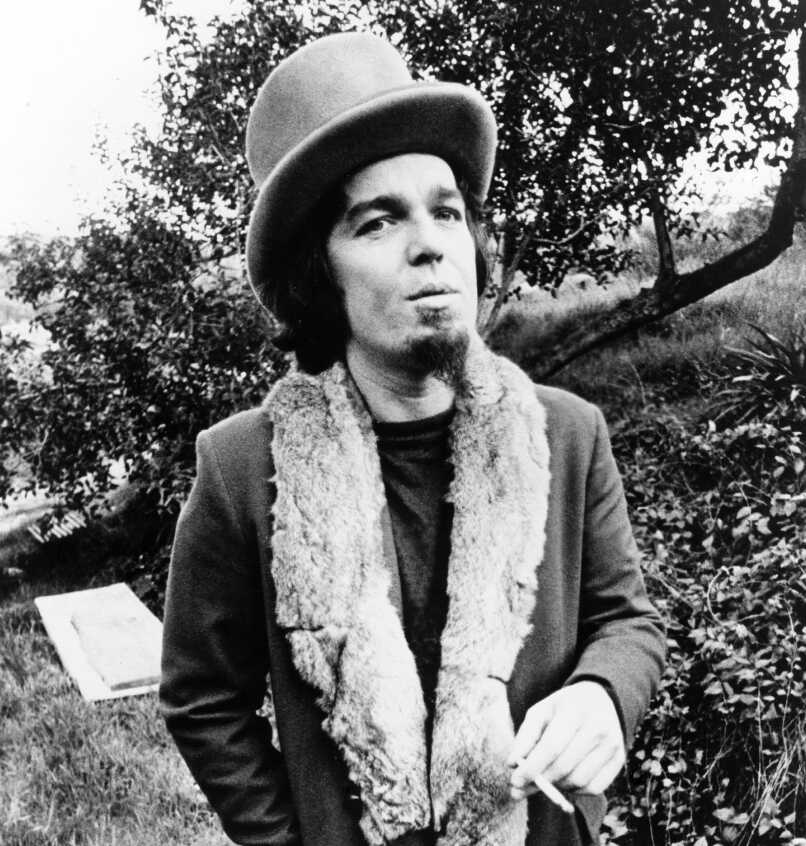 Michael Ochs Archives/Getty Images
Avant-garde musician Captain Beefheart died this morning in California from complications of multiple sclerosis. He was 69.
An all-time favorite of rock critics -- and known to readers of lists of the best rock albums of all time as the guy with the hat and the fish face -- Beefheart earned a reputation for making challenging music. But his work was, at its roots, well-executed blues-based rock.
His given name was Don Vliet -- he added a Van in between his first and last names later. He was one of those musicians who sold fewer records than his best-known fans: Tom Waits, members of R.E.M. and New Order are just a few of dozens. The late British DJ John Peel called Beefheart a true genius, possibly the only one rock ever produced.
Mark Mothersbaugh, of the band Devo, calls him one of the all-time greats.
"The Beatles and The Rolling Stones would definitely be in that group of what turned me on about music," Mothersbaugh says. "But I have to say that he made me want to be an artist."
Born in a Los Angeles suburb, the only child and art prodigy was featured on a local television show making animal sculptures as a child. When he was 13 years old, his family moved to the Mojave Desert, where he befriended a young Frank Zappa.
Hear More On Captian Beefheart
WHYY's Fresh Air ran a two-part series on the life and music of Don Van Vliet in 1999. You can hear both parts below.
Hear Fresh Air's Ed Ward on the early years of Captain Beefheart and His Magic Band.
Hear Fresh Air's Ed Ward on the later years of Captain Beefheart.
In 1966, Captain Beefheart and His Magic Band signed with A&M records and scored a regional hit with a cover of Willie Dixon's "Diddy Wah Diddy." Pretty soon, Van Vliet was writing original material for his band. In a 1980 interview with the BBC, he insisted he was a composer, not a songwriter. And in his band, he was exacting.
"I play the drums. I play the guitar. I play the piano," he said. "I want it exactly the way I want it. Exactly. Don't you think that somebody like Stravinsky, for instance -- don't you think that it would annoy him if somebody bent a note the wrong way?"
A&M didn't like the new direction. They dropped Beefheart, who signed with Buddah Records. That label convinced teenage guitar prodigy Ry Cooder to join, and the band won an invitation to the Monterey Pop Festival in 1967, just after it recorded its debut album, Safe As Milk.
But Van Vliet, who was known for his erratic behavior, quickly drove Cooder and another member from the band. The remaining musicians skipped the historic festival, and the album sank without a trace.
Freed from commercial expectations, Beefheart found new members and set out in a more avant-garde direction. Years later, he said he'd never wanted to make regular rock and roll.
"That 'mama heartbeat,' that 'bom-bom-bom' -- it's so boring, it's so banal. I mean so, uh, hypnotic," he said. "I don't wanna hypnotize anybody. I just wanna play. I mean, I want things to change -- like the patterns and shadows that fall from the sun."
Beefheart's vibe may have been mellow, but he drove his new musicians hard. He would sit at the piano and play complex, discordant parts; drummer John French transcribed them note-for-note and then taught them to the others. The band all lived together in a house in Los Angeles, short on cash and food. In a 1999 interview with NPR, guitarist Bill Harkleroad said the atmosphere was oppressive and cult-like.
"He was our hero because of what we thought of him before we got into the band, so we were all very ripe for this very controlled situation," Harkelroad said. "And he was very much aware of sleep deprivation, food deprivation. And we went through a lot of emotional things -- bashing, physical bashing, even, too."
The album that emerged from that period was produced by Van Vliet's old friend Frank Zappa. And though it was born of trying times, Trout Mask Replica remains an acknowledged masterpiece of avant-garde rock. Not that it sold well. Neither did any of Beefheart's followup releases. And again, the band disintegrated.
Late in the 1970s, as Van Vliet rehearsed with yet another lineup, Devo's Mothersbaugh met his hero. He found him intimidating, yet childlike.
"Everyone in the band complained about what a pain in the ass he was, how ridiculous he could be at times," Mothersbaugh says. "But they all took care of him, and they all loved him, and they all respected him. And, uh, they were almost all acting like babysitters that they all loved but that frustrated the heck out of them."
Around that time, doctors diagnosed Van Vliet's illness. By 1982, he'd stopped making music and returned to his first love, visual art. The paintings he made in the 1980s and '90s were stark depictions of human and animal forms, frequently against a white background, influenced by the desert landscape of his youth.
Though the paintings sold well, Van Vliet withdrew from public life. In 1983, fans caught a final glimpse of the artist, who was by then seriously ill. A short film by the photographer and director Anton Corbijn showed the sharp edges in Van Vliet's personality softened by illness.
Against a projected backdrop of Joshua trees in a desert landscape, Van Vliet sits still, his trademark moustache now white, his eyes shaded by reflective lenses. In a voiceover, he speaks haltingly:
"The way I keep in touch with the world … is very gingerly … because the world touches too hard."
Van Vliet's admirers might hear irony in that statement. They'll remember a visionary whose work always pushed back against the world, and what it expects of its artists.