Singled Out: 'Now That's What I Call Music 37'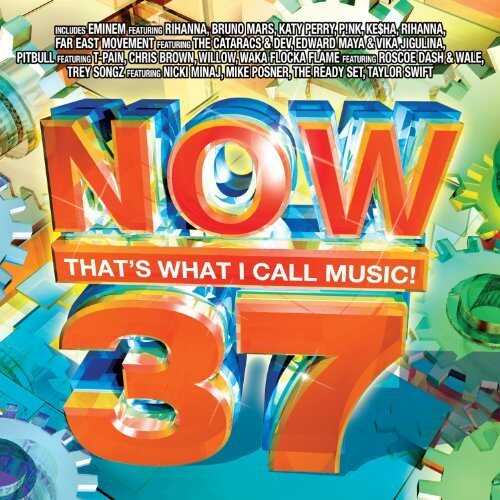 Who is the "I" in Now That's What I Call Music? For a series of compilations that asserts — screams, nearly — the authority of its taste from the cover of each bargain-priced CD, the answer is pleasingly democratic: it's you. Rather, the collective "you," the body of listeners whose taste and purchasing power have — with shocking frequency — managed to cohere around a single artist or song long enough to elevate a hit above a fractured marketplace.
NOW was born in 1983 in England, a collaboration between major record labels designed to collect and repackage those hits every so often. That first installment included songs by UB40, Men At Work, Tina Turner and Phil Collins. The series was imported to the United States in 1998, just before the era of undeniable pop dominated by boy bands and former Mickey Mouse Club stars — and the rise of the Internet. Always designed to mirror the fluctuations in the public's taste, each installment is carefully selected and sequenced, and can be shockingly diverse (that first U.S. compilation included Hanson's "MMMBop," Harvey Danger's "Flagpole Sitta" and "Karma Police" by Radiohead).
But for the purposes of this interview, the "I" in Now That's What I Call Music goes by two names: Jeff Moskow and Laura Rutherford. Moskow has worked on the series as the head of A&R since NOW 4 hit shelves in July of 2000; he's the guy in charge of the songs included on the compilations. Rutherford came to the brand as a product manager at Universal in 2004, before becoming the series' Vice President of marketing and business development. We asked about how they choose the songs on each compilation, what makes a song fit into the NOW universe, and how they manage to make the cover for each installment immediately identifiable but distinct, so buyers know it's it's something they haven't already purchased.
Now That's What I Call Music 37 is out today; its track list includes Eminem, Rihanna, Bruno Mars and Taylor Swift. But to represent the collection, Moskow and Rutherford chose a song by someone they call "the epitome of what NOW wants to be."
Why did you pick Katy Perry's "Firework" for NOW 37?
Jeff Moskow: A song like "Firework" by Katy Perry is sort of a classic NOW type track. She's a huge global superstar. Virtually every song she has as a single is a smash. And as soon as we identify her new single we really mark it as a track we want to go after for inclusion on the compilation. There are other artists like that. I would say that Pink is certainly that way and I would say that Ke$ha has evolved into an artist like that as well. Even when you identify a new single from an artist of that stature, the song still needs to be a big hit to be included. You can't include it, even if it's from a big artist, if it doesn't perform on the charts.
Laura Rutherford: I think Katy Perry really embodies what NOW is all about. There are other artists over the last ten years who we say that about, [like] the Black Eyed Peas or Britney Spears. She's really one of the two or three or four hugest artists in the world right now.
Are there musicians who have big hits that don't fit on the compilations?
JM: No. A few years ago, there was a pretty big evolution change in music where there was a lot of hip-hop that started to cross over. You had a lot of country that started to cross over. And in our mind, NOW's role is to be a mirror of the marketplace. The only stipulation is that we want to use the cleanest versions possible. There are certain album versions of songs that have different content than the single radio edit. So we will use the single radio edit on the compilation so that any curse words have been edited out. Just the same as the version that's played on pop radio. But other than that, no, there's nothing that doesn't fit. If it's a hit, it fits.
How do you identify which songs are the biggest hits? Is it just chart play, or are there other criteria?
JM: We do try to achieve balance on the record as best as possible. We try to have a representation of everything. We try to have a little country on the record, we try to have as much rock as is popular on the record. But you know, mainly, it's the biggest songs from the biggest artists. So as far as criteria is concerned, we're mainly scouring a handful of charts. We're scouring the Billboard Hot 100, the Billboard pop chart, which is different from the Hot 100, and we're looking at digital sales, primarily the iTunes chart.
In terms of offering up these collections to a public that has already made these songs hits, do you see your audience as people who don't want to buy a huge number of CDs? Or are they people who just buy singles?
LR: We try to stay in touch with our audience through annual research and just things like paying attention to what they're saying to us on Facebook. And basically, we provide a few different value propositions for people. First of all, it's a good deal. You get a nice big collection of songs for a lower price than if you were cherry picking them. Second, for some people it's sort of a service to tell them what's happening in popular music. Some people who buy a lot of music just want to buy NOW because it's an important part of their collection.
How have the collections changed in the time you've worked on them?
JM: Look at a record like NOW 5. NOW 5 is the biggest selling NOW compilation. Scan-wise it's at about 5 million scans. And that was as pure a pop collection as you're going to see. But then over time, there are absolutely moments when different type of repertoire starts to peek it's way onto the brand. There was absolutely a moment when artists like Mystikal and Petey Pablo were having their moment, and those songs ended up being represented on the brand because those were big songs. You also had moments when country started to become less placed in its own spot and moving into the mainstream as far as the pop radio market is concerned. So you had artists like the Dixie Chicks and Gretchen Wilson and then artists like Keith Urban and Lady Antebellum and the Band Perry. Those artists, particularly the most recent ones I mentioned, are mainstays on NOW.
NOW 5 came out in 2000, which was just the absolute peak of album sales. Has the series experienced the same slide in sales that the rest of the industry's best-selling albums have?
LR: Sure. There's no doubt that the music business is facing some challenges right now, but luckily we're in a position where NOW is still incredibly popular. It still serves the purpose to a lot of peole and I think that we generally perform over the year better than a lot of other things do. It's not as easy as it used to be for the music business, but we're doing a good job of keeping up with the times and continue to offer people something they want.
JM: I agree with that. It's a qualified "Yes." Yes, it has seen some of the decline, but there is absolutely still a need in the marketplace. Are there some people who don't buy digitally? Yes, there are some and we fill that need. But tbre's also people who want their music curated for them. And I'll tell you something else: the research that we do has a pretty substantial what we call "sampling" element in it. In other words, where people have bought the compilation for a number of songs that they like but in the process they've uncovered artists and songs that they didn't necessarily even know yet. But they've gone out and they've bought projects or other songs or albums from those artists because they heard them first on NOW.
The covers for each installment of the series are interesting to me — nearly from the start, they've shared that same image, with minimal changes from cover to cover. Can you tell me why it's important for them to be so identifiable?
LR: From a commercial perspective, the main thing we want to do is let our fans know it's here. When they see it at a store, when they see it on iTunes, when they see something in the press, the most identifiable thing about NOW is the logo.
It's all done in 3D graphics and it's evolved since the brand began. [The background] used to be patterns of geometric shapes but after several volumes three or four times a year the question becomes, how do we tell people with a visual message that we have something new out. So in the last few years we've begun making the covers consistent with the season when it's released. So we'll have sailboats for summer or snowboards in the winter. This concept for 37 is sort of a mechanical apparatus, a gear thing. It was just a visual concept that we really loved. And we also use those concepts to make the animation in the commercials.
Who is it that designs the cover? Does that person get to hear the compilation?
LR: He's a graphic designer who works in the music business a lot. He's based in London and works on the U.K. volumes as well, and he knows everything that's happening in pop music. Does he hear the collection before he does the artwork? No, because we do the artwork three or four weeks before we finish the song collection, but I guess he knows the general feel of the music.
Can you talk about the differences between the early covers and the current ones?
LR: I guess from a technical standpoint, there have been huge advances in graphic programs in the last 10 years, so they wouldn't have been capable of doing the kinds of designs that we do now back then. Particularly if you look at what was happening in the U.K. 20 or 25 years ago; it was very elementary, they're very of that period, which was special as well. But in terms of what we're dong now, we felt like if you look at those graphic designs, we couldn't just keep doing bubbles or squares or triangles, we had to do something to make each one different and unique so that's why we took this different approach in the last few years.