First Take: Lady Gaga's 'Born This Way'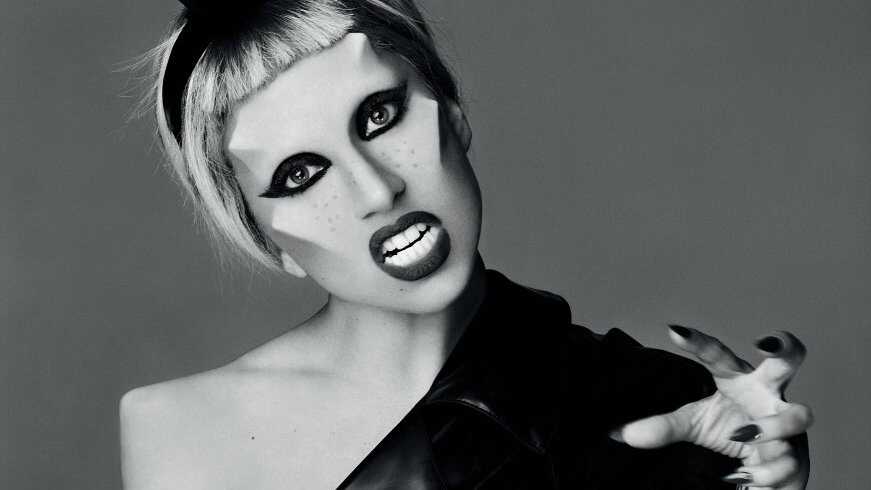 It's a sign of how thoroughly politics and entertainment have merged (not that they were ever anything but inseparable) that the most powerful protest singer of our time is also our most commercially successful young star. Find Lady Gaga vapid at your own risk: On her just-leaked new album, Born This Way, she engages with and seeks to define the cultural conversation in ways that remind me of similar moves made by Bob Dylan circa 1963.
Okay, I'm being deliberately provocative with that comparison, but it's the one that kept coming back to me as I listened to Gaga's new material. Like Dylan at the moment when he linked his musical career with Martin Luther King's civil rights crusade, Lady Gaga is an impassioned freedom fighter as well as a media-savvy trickster. Singing "Only a Pawn in Their Game" on the Mall during King's March on Washington, Dylan found a way to move forward a cause he believed in while also bringing gravitas and purpose to his own career. Things are different now, no doubt. But Gaga's serious new music makes a similar gambit.
Hold on, I can hear some of you saying — isn't Gaga just a disco dolly in ridiculous designer clothes? Yet her trappings, both stylistic and musical, are part of what makes Gaga such a major figure right now. She's come a long way since her emergence three years ago as a dance-floor provocateur; just this week, as she prepares to release Born This Way, she's pushed Oprah Winfrey from her seemingly solid perch at the top of Forbes Magazine's annual list of the most powerful celebrities. The very fact that a list like that exists now sheds light on how big a role mass media play in our economy — and, by extension, in our political life.
Dylan singing folk songs and spirituals connected with the powerful cultural engines feeding mass movements during those years: the church and the post-war radical left, still aligned with a strong idea of "the folk." Different cultural moments make for different alignments; for Gaga, the cause is gender equality, and her engines rev up on the dance floor, where gay and straight people alike (and often together) have historically opened themselves up to new forms of love, sensual pleasure, individual dignity and communal pride.
Pairing the utopian joy of the disco with the fantasy explorations of glam and metal-era arena rock, and throwing in the often tragic confessionalism of the drag cabaret for good measure, Gaga has created a sound to contain and expand her most important message: that there is no wrong way to love.
She's actively extending the conversation started by gay liberationists in the 1960s and made more urgent during the onset of the AIDS epidemic of the 1980s, helping kids who didn't live through those crises relate their more isolated struggles to a larger historical moment. And, declaring herself a "blonde, high-heeled feminist" on this new album, she's also struggling to figure out how her celebratory view of sexuality can lead to genuine female empowerment.
The aggressively grandiose songs that fill Born This Way immediately hit on multiple levels. Writing on MTV.com, James Montgomery called it "everything to everyone." "Marry the Night" and "The Edge of Glory" are cosmopolitan club bangers and 1980s-style rock anthems. (Clarence Clemons on sax!) "Government Hooker" invokes Nine Inch Nails and Grace Jones. "Electric Chapel" re-imagines Duran Duran as an electric guitar-wielding girl group.
All innovative pop is based in unexpected juxtapositions, and with the assistance of Mexican producer Fernando Garibay, globe-trotting Chicagoan DJ White Shadow, Dane Jeppe Laursen and the Moroccan-born RedOne — not to mention Mutt Lange, the South African-born, Switzerland-residing mega-producer who perfected Eurovision-style metal back in the 1980s with Def Leppard — Gaga travels the world to make her match-ups.
Most compelling upon first listen, though, is the cohesiveness of the message that runs throughout Born This Way. Few will think of street rallies and sit-ins when they hear this music, but Gaga might as well be singing "We Shall Overcome."
The hardships Gaga faces down in the name of her legion of "little monsters" aren't as overtly a part of a historical struggle as the ones Dylan sang about in his early protest songs. In many cases, she's revisiting the demons every feminist artist has faced: Christianity in "Bloody Mary," the trap of conventional femininity in the awesomely hilarious "Highway Unicorn (Road to Love)"; bad boyfriends in "Judas." But by taking up these old battles with utter commitment, she makes it clear that the fight to be a freak — her favorite term for someone who, by predisposition or choice, lives outside cultural norms — is not just personal, but political.
I don't always agree with Gaga's approach to sloganeering. I'm turned off by the biological determinism contained in the very phrase "Born This Way" and puzzled at Gaga's refusal to engage with African-American culture, either musically or within her calls for liberation. After the Twitter fight the soul singer India.Arie had with Gaga's fans last year, it's hard to hear the lyrically inane "I Am My Hair" as anything but a swipe at that singer — and, by extension (pun intended), a sign of insensitivity about black women's long-fought struggles against racist beauty standards. At 25, Gaga is still very much a work in progress. But then, so was Bob Dylan when he went to Washington at 23.