Revolution Girl Style, 20 Years Later
Like many music lovers, Amy Klein can point to a moment of discovery that deeply informed her musical identity — as a fan, a musician, a writer and now, as an activist. As a pre-teen in the mid-1990s, she started raiding her older sister's room for records.
"She had a great collection of Bikini Kill and Bratmobile, and also first-wave punk music," Klein, now 26, recalls. "I would look at the girls on the cover of the Bikini Kill CD. They looked really confident and filed with this secret emotional power. And I thought, 'OK, this is who I wanna be in a few years.'"
By the time Klein found its records in her sister's room, Bikini Kill was on its way to quietly disbanding. Bratmobile had already broken up. But for a brief but explosive period in the early '90s, the two bands were an instrumental force in the radical feminist youth movement known as Riot Grrrl.
This summer marked the 20th anniversary of events that launched the movement in earnest. The milestone happens to arrive at a time when many of the original Riot Grrrls — now in their thirties and forties — are taking the first steps in the process of revisiting and interpreting a complicated period in their own histories and while younger women are discovering the scene.
Bikini Kill's Kathleen Hanna is the subject of a forthcoming documentary, The Punk Singer, covering her life and role as a musician, activist and iconic figure in contemporary feminism. Earlier this year, the Fales Library at NYU officially opened its Riot Grrrl Collection, a growing archive that attempts to comprehensively document the movement and contextualize its diverse creative output.
Sara Marcus, author of 2010's Girls to the Front: The True Story of the Riot Grrrl Revolution, acknowledges the coincidence may be a byproduct of what she calls "the good old 20-year cycle" of nostalgia. However, she argues, revisiting the history of Riot Grrrl is no mere nostalgia trip — it's necessary to set the record straight. Marcus believes that most of the stories that have been told about Riot Grrrl over the past decade reflect only a fraction of the movement's real significance.
"Something way more transformative was going on than was being talked about at all," Marcus says. "Riot Grrrls changed the culture."
In a way, the most radical shift in the wake of Riot Grrrl is also the simplest: It changed our attitude about who could be on stage. Today, women in rock music are commonplace enough to seem, if not equally represented, at least unremarkable. But 20 years ago, the idea that young women deserved to play an active role anywhere in pop culture seemed truly radical.
A Riot Of Their Own
"Revolution Girl Style Now" was the title of Bikini Kill's 1991 demo cassette. Drummer Tobi Vail describes the slogan as "a call for all girls to start bands, start 'zines and participate in the making of independent culture."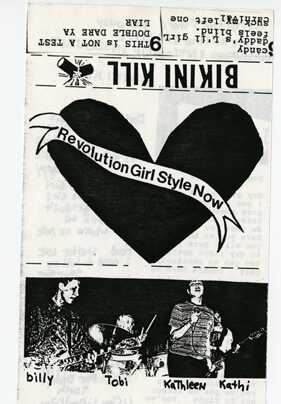 Courtesy of The Riot Grrrl Collection; The Fales Library & Special Collections New York University
It would soon become a catchphrase for the nascent movement known as "Riot Grrrl," a term that began its life in July of 1991 as the title of a handmade mini-'zine compiled and published by Hanna, Bratmobile's Molly Neuman and Allison Wolfe, and their friend Jen Smith.
According to Marcus' Girls to the Front, the titular "riot" gestured at the undercurrent of political unrest in Washington, D.C. (where the bands had temporarily relocated for the summer, and where an actual riot had broken out that May in the city's Mount Pleasant neighborhood) while simultaneously evoking the tamer semiotic anarchy of the city's thriving punk scene. Meanwhile, the "grrrl" spelling took a feisty jab at the "wimmin/womyn" of the feminist establishment. Under the banner of Riot Grrrl, the close-knit group of friends began to disseminate their vision for a new kind of feminism fueled by the DIY ethos and rebel cool of punk rock.
Inside Riot Grrrl #1, a missive decried "the general lack of girl power in society as a whole, and in the punk underground specifically."
Courtesy of The Riot Grrrl Collection; The Fales Library & Special Collections New York University
In punk's anti-authoritarian, "here's three chords, now form a band," ideology. young women on the sidelines of the scene saw a crucial opportunity for self-expression and self-determination. The Riot Grrrl movement would eventually take almost as many forms as there were participants, but it was at least in part an effort to get women and girls in the punk community back on the mic.
On August 20, 1991, in Olympia, Washington, members of Bikini Kill and Bratmobile, along with 15 other all-girl or female-fronted bands, took the stage at an event called "Love Rock Revolution Girl Style Now" or simply, "Girl Night." Girl Night was the kickoff show of the International Pop Underground Convention (IPU), a five-day gathering of D.I.Y. scenesters organized by K Records' Calvin Johnson and Candice Pederson.
According to Vail, an Olympia native, Girl Night seemed like a natural fit for the Olympia music scene circa 1990. Since the '60s, the freewheeling college town had fostered a strong, co-ed creative community with a progressive political bent. Still, Vail recalls, events with an obvious feminist agenda tended to ruffle feathers even among Oly punks.
Earlier that year, Vail had published an article in her 'zine Jigsaw speculating about what an all-girl rock show with an all-girl audience would look like. "Just by asking the question," Vail says, "People got really angry, saying we were 'separatists,' which made it seem necessary for it to happen."
Along with her friends in the Riot Grrrl movement, Vail encouraged IPU Convention organizers to give female musicians a prominent spot on the bill. Far from being a "separatist" move, she explains, "Girl Night solidified the idea that it was important to include and value the contributions of women."
The relatively strong presence of women in Olympia's DIY community was an exception, not a rule, in the early '90s underground rock scene. Women had played an important and visible role in the punk counterculture of the late '70s and early '80s. But by the '90s, the reigning sound of hardcore punk drew a younger and predominantly male crowd vying to play the fastest, yell the loudest and mosh the hardest. Women remained active behind the scenes but seldom made it onstage.
The gender divide was further cemented by the subsequent commercial explosion of grunge and "alternative rock," genres rooted in the punk scene that were largely apolitical, musically conventional and overwhelmingly male-dominated.
The IPU Convention advertised itself with whimsical flyer-cum-manifesto exhorting fans to fight the "creeping influence" of the "corporate ogre" with a 12-point program that included concerts, dance parties and a cakewalk. It was meant in fun, but it also drew an explicit line in the sand between the adventurous and community-oriented sensibility of Olympia's DIY scene and the profit-driven model of the music industry at large. The IPU established K Records and the Kill Rock Stars label (launched by an eponymous compilation sold at the convention) as hubs of one camp in a factionalizing indie rock scene. They intended to embrace creativity over commerce — and invite everyone to the party.
IPU organizers found dozens of young women eager to play at Girl Night. But elsewhere, even at the indie and "alternative" level, opportunities for women were few and far between. The first Lollapalooza tour making its way around the country in the summer of 1991 included only a single female musician — punk singer Siouxsie Sioux — in a touring lineup of nine bands.
Riot Grrrl was never a stylistically codified genre, but if any shared sensibility could be said to unite the movement musically, it was a self-conscious rejection of polish in favor of immediacy and spontaneity — a revolution you could dance to.
"We tried to make songs that were fun and catchy and said something," explains Bratmobile drummer Molly Neuman. "We may not have been able to play perfectly, but we did [play], and we got better. Our impetus was, 'If that guy can do it, why can't we?'"
Riot Grrrl performers looked to an alternative canon of influences for inspiration, reintroducing their peers to the catalogs of experimental English post-punk bands like The Slits, The Raincoats, and X-Ray Spex. They also embraced the idiosyncratic sounds of Olympia contemporaries like Beat Happening and Lois Maffeo and the Vancouver duo Mecca Normal.
They sang frankly and bluntly, often wresting with difficult subjects at the intersection of the personal and the political: desire, self-acceptance and their uncontainable frustration at a society in which women's lives and futures still seemed so narrowly delimited by their gender.
Moreover, they hoped to pave the way for women everywhere to do the same.
"Dare you to do what you want / Dare you to be who you will / Dare you to cry right out loud," Hanna sang in Bikini Kill's "Double Dare Ya."
"People Were Really Freaked Out"
"At the time Riot Grrrl emerged, young women's lives were operating as a stand-in for vast political narratives in the U.S.," says Marcus. In 1991, national debates over reproductive rights were in full swing. Meanwhile, new studies revealed a scope of sexual assault more widespread than any official accounts had anticipated. Perhaps more than their male peers, young women needed permission to phrase their struggles in punk rock's language of crisis.
Dealing with the lack of "girl power" in society at large, however, proved difficult.
Early on, Riot Grrrl was championed by the teen magazine Sassy, which periodically featured Riot Grrrl writers and musicians in its "Zine of the Month" and "Cute Band Alert" columns. The young movement subsequently began to attract the attention of major publications like Spin, Newsweek and The New York Times. By the mid-'90s, the idea had become so ubiquitous that a stereotypical "Riot Grrrl" appeared on an episode of Roseanne.
Like many of her peers, Neuman was taken aback. "We didn't have publicists, we didn't have managers, we didn't have people out there trying to get these articles written about us," she says. "People were really freaked out."
For an explicitly political movement like Riot Grrrl, exposure to the media spotlight was especially fraught. The participants — most of whom were in their teens or barely out of them — found their lives, ideas and motives subject to public scrutiny in a way they had never encountered before.
Some Riot Grrrl groups retreated into a self-imposed "media blackout." Others simply tried to persevere as, like so many '90s youth movements singled out as the "next big thing," they found their DIY tactics co-opted, repackaged and mass-marketed sans subversive content.
By the late '90s, "girl power," a slogan that began its life in the pages of Riot Grrrl 'zines, achieved dubious cultural ubiquity when it was appropriated by studio-choreographed U.K. pop sensations the Spice Girls.
But the birth of "girl power" pop stars (and their big sisters, the "angry women" singer-songwriters) was, in Marcus' opinion, ultimately a positive change for the culture at large.
"Riot Grrrl put girls' voices into the culture in a way that hadn't been heard before," Marcus says. As such, it revealed a need — and a market — for pop culture that spoke to the actual hopes, dreams and experiences of young women.
"Even if it was plastic and cynically hawked as a corporate substitute for Riot Grrrl, it was better than what was there before," Marcus says. "You're never going to have the true biting critique get through on Top 40, but maybe you can have something that points toward it."
(Not Just) Looking Back
Today, as pop culture enters a state of full-blown '90s nostalgia, grunge hitmakers like Nirvana and Pearl Jam are once again thrust, perhaps less reluctantly than two decades ago, into the media spotlight. Elsewhere, efforts to assess and honor Riot Grrrl's history and cultural impact shed light on its still-living legacy in culture today.
"Nostalgia's interesting, but my goal is to create a permanent archive that will last hundreds of years," says Lisa Darms, head archivist of the Fales Library's Riot Grrrl Collection.
Darms hopes that collecting the movement's original sources will help paint a more complete picture of the movement than the image circulated by the mainstream media.
"You might easily think of it as a cutesy, girly, Hello Kitty kind of movement," Darms says. "But there was anger and there was danger and there was truly radical intent."
The Riot Grrrl collection, housed next to the Fales Library's Downtown Collection of early punk and avant-garde performance art, has already seen a great deal of interest, especially among younger students.
"It's exciting," Darms says. "It's very consistent with the ethos of the movement to have teenagers coming in and doing research."
Although the original Riot Grrrl movement had largely dissolved by 1996, graduates of the Riot Grrrl scene like Sleater-Kinney and Le Tigre would go on to achieve widespread critical acclaim and loyal cult followings. Meanwhile, on a grassroots level, Riot Grrrl-inspired projects like the Girls Rock Camp Alliance and Ladyfest are passing on the spirit of all-ages, DIY creativity to a younger generation.
But as women in their teens and twenties growing up in a post-Riot Grrrl culture begin to discover the movement, some scholars are questioning whether the renewed interest in the movement today stems from a genuine effort to learn from its history or from a manufactured sense of nostalgia.
"You go into Forever 21 and it looks like my closet from 1993," jokes Columbia University adjunct professor Elizabeth Keenan. Keenan, who is currently writing a history of women in popular music since the '90s, hopes the interest in Riot Grrrl she sees among her students will translate into a political "moment of recognition" similar to the one that launched the movement 20 years ago.
Sarah Dougher, a musician and professor at Portland State University who also teaches at Portland's Rock'n'Roll Camp for Girls, is concerned that the interest in Riot Grrrl she sees today more often takes the form of nostalgic longing for "authentic community" than a practical engagement in radical politics.
"Among people who grew up with the Internet — people who are presented with a gajillion cultural options — when they find one that feels really cool and authentic to them, like Riot Grrrl is to some people, they glom on to it," Dougher says. "Now there are all these people coming out of the Rock'n'Roll Camp for Girls who are like, 'Look at my 'zine!' And I'm like, 'Why are you making a 'zine? You have the Internet.'"
"If what you really want is to get people to hear your position and make social change," Dougher says, "take the good things from that culture and ditch the things that don't work in our current culture."
A Permanent Riot
Last year, Amy Klein joined the New Jersey indie rock band Titus Andronicus playing guitar and electric violin. Klein is the only woman in the band, and describes her first brush with the "male-oriented world" of the music industry as an eye-opening and galvanizing experience. She began to view the loneliness and discomfort she felt as "the girl in the band" as part of a larger problem — not only was she the only girl on stage, she was frequently one of the only women she met at venues, in label offices or in the press.
In an essay on her blog (soon to be republished in the upcoming Da Capo Best Music Writing of 2011) Klein vividly describes flipping through an issue of Rolling Stone searching fruitlessly for women musicians depicted as anything other than nude pin-ups. "I've got a suspicion that's rooted in the back of my mind," she writes, "that the issue will not contain a single image of a woman holding an instrument of any kind. Perversely, I want to see if I'm correct. The sensation of knowing what I will find is already sad."
Reading Marcus' book on Riot Grrrl, Klein says, she came to a realization: "I started thinking about how little had actually changed since the '90s."
So this year, spurred by Marcus' book, she decided to make her own attempt at DIY feminist organizing. "I thought Riot Grrrl was this movement of cool, famous ladies," Klein says. "I read the book, and it made it seem like it really had to do with girls coming together and making change in their communities. And I thought, you know, this doesn't seem so hard! Anyone could do this."
In January, Klein posted an open invitation on her blog asking readers to come to her house for the first meeting of a new feminist group she called Permanent Wave. Since then the group has organized meetings and benefit shows and joined other groups in protests around New York City.
"We've grown up hearing that we're post-feminist, that we don't need feminism. When you figure out you do, it's a huge deal," she says.
For Klein, Riot Grrrl's emphasis on the fundamental relationship between music, politics and power still rings true.
"One of the things you realize if you're in a band is that music and politics are basically the same thing. You get up in front of a crowd, and you have their ideas and emotions in your hands. That's power, and we think of that as a very masculine thing," she explains. "It's definitely not 'cool' to be a feminist, and if you're a musician, you run the risk of diminishing your audience. But I think if you're in a band that has some reach, you have a responsibility to do something positive with it."
Like the original Riot Grrrls, Klein doesn't want to codify her ideas too soon. "I don't really have a huge philosophy. We're figuring it out together," she says. Part of the process, she acknowledges, will have to involve facing up to the complexities of living at a time when cultural options are plentiful and concepts like genre and even gender are no longer taken for granted. With the name Permanent Wave — suggested by her mother — Klein hopes her group will foster dialogue between feminists of all ages.
According to Marcus, the original Riot Grrrls also feel as though they have unfinished business. "A lot of the people I interviewed had put it away and not talked about it in a long time," she says. "They felt like it hadn't lived up to its promise."
Ultimately, Molly Neuman says, Riot Grrrl "was something very fluid and difficult to understand, and remains so." After a two-decade career in the music industry following her days in Riot Grrrl, Neuman also feels that not enough has changed for women in the industry at large. However, she continues to see hope for women to make positive change in and through music.
Neuman, who contributed to Marcus' book, now numbers among the donors to the Fales Library's Riot Grrrl Collection, where she contributed a collection of letters and diaries from her years in Riot Grrrl. Neuman hopes the process of revisiting and documenting the movement's history will one day include an oral history project. But for now, to the students and researchers encountering "Molly's stuff from when she was a young punk," Neuman hopes a simple lesson will ring true.
"Looking back on the language we had and the way we communicated — I'm pretty proud of it, actually," Neuman says. "My mission has always been to work as hard as I can and do as many things as I can that I'm proud of. Hopefully that has an obvious resonance, that someone could look back at one of those things and say, 'Oh, I could do that,' and do it."