Lana Del Rey: Just Another Pop Star
Lana Del Rey: Just Another Pop Star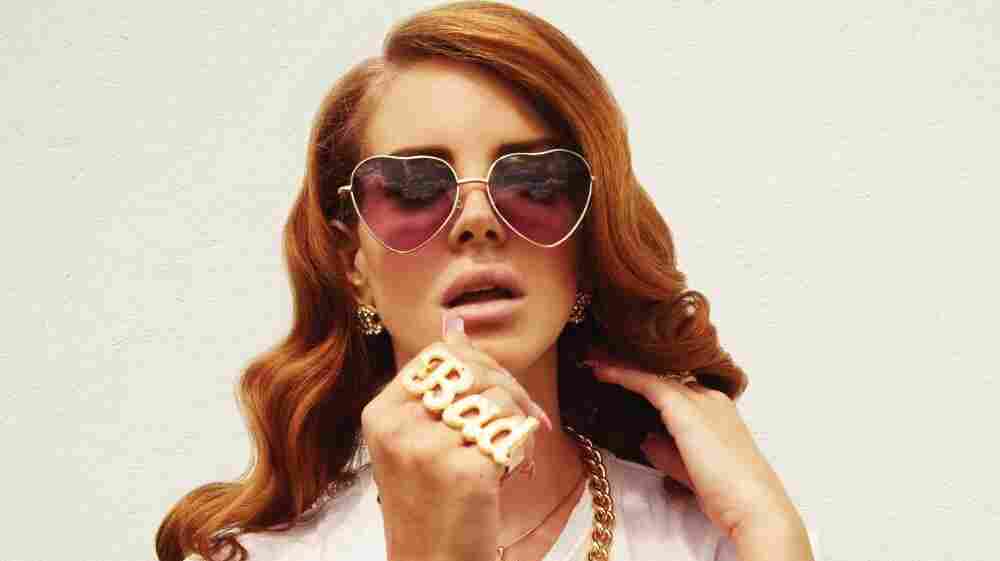 Nicole Nodland/Courtesy of Universal Music Group
Lana Del Rey is all anybody can talk about right now — anybody, anyway, caught up in the helium machine of hype-driven pop. I spoke to All Things Considered host Audie Cornish about Del Rey's accelerated rise to the top of the buzzy musician heap and how today's hype cycle can chew artists up before they've had a chance to hone their talent.
If you read music blogs or magazines like the The New Yorker, you know her story: singer-songwriter transforms herself in model fashion, takes a new name, signs to a major label, has a viral hit, fails on national television, is crucified by critics, comes to embody all we hate/love/worry about when it comes to young women/popular music/the Internet. Del Rey's first album under this name, Born To Die, officially comes out Tuesday, but she's owned the hype cycle for months, even if her balloon's already been popped.
Hype is helium: the monatomic force that causes a cultural product to exceed its normal boundaries, float upward, and crowd out everything around it. Hype works when an artist or art work hits an already partially exposed common nerve, setting off a mass discussion about issues that go far beyond whatever product started the chatter. Sometimes what's left behind after hype turns out to matter a lot: Nirvana's Nevermind. Sometimes, not so much: Axl's Chinese Democracy.
Lana Del Rey is a particularly polarizing figure for two reasons. Her persona relies on classic femme fatale allure, but without the usual "girl power" update — the sassy shake of the finger that makes a phrase like "put a ring on it" seem almost feminist. So women find her troubling; she embodies the worst part of being a girl. And her music — well-constructed and catchy, but also strangely incomplete, with lyrics that feel slapdash sung by an unpolished voice — is neither fish nor fowl, too awkward for corporate pop and too distant-feeling for indie.
She's what most of us desire and despise, all in one. That's agitating, so much so that the hype enveloping her and the backlash that usually follows have formed a pile-up, making her both a star and a pariah. I'm not interested in defending her, or pillorying her further; others have done both well, sometimes in the same think piece.
I'd just like to point out that Lana Del Rey is not singular, either in her music or in regards to the buttons she's pushed. She's actually fairly typical of what pop often gives us these days, simply with a different veneer, a different method of distilling key elements of the culture's sheet-rumpling dreams. Here's a list of artists who might not share her most obvious attributes, but who nonetheless belong to the same conversation we're having about LDR.
Putting Together The Pieces Of Lana Del Rey
Rihanna

Wasn't it only yesterday that we were all debating whether Rihanna should be the poster girl for female submissiveness? Like LDR, she sings in a heady alto about bad boys and risky behavior. She's very good at being sad, too. The difference is that Rihanna's explorations of sexuality's darker side pulse with the energy of real desire and self-questioning. Del Rey hasn't found the guts to go there yet.

Katy Perry

The whipped-cream queen is the comic version of Del Rey. Songs like "Teenage Dream" and "Waking Up in Vegas" tell similar stories of an old-fashioned pinup girl courting trouble with the bad boys, and her image celebrates pre-feminist glamor. What a difference a few jokes make!

Taylor Swift

As with Perry, humor — and its sister characteristic, feistiness — makes Swift a more likable character than Del Rey. But she's prone to old-fashioned fantasies about being swept away by the right guy, too.

Britney Spears

A decade plus into her career, the 21st century's original trouble girl has become almost respectable, celebrated for her adventurous dance pop productions. What Del Rey takes from her is what many critics have long decried: her eager exploration of every taboo fantasy about young women, as vixens, victims, jailbait, wild cards, inflatable dolls.

Skylar Grey

Who? The L.A.-based singer-songwriter wrote the hook to "Love The Way You Lie," the Eminem/Rihanna megahit whose title and sentiment would have fit perfectly on Born To Die. She's gone through a couple of name and image changes herself, but Grey might already own the career track where Del Rey could find stability: crafting vocal hits for hip-hop stars to sample and music supervisors to throw on television soundtracks.

Class Actress

Del Rey's sound and stance are fairly common within indie music. This electronica-tinged ensemble — also led by a at-one-point more conventional female singer-songwriter — is one of several, including Chairlift and Tennis, whose langorous tone and fatalistic spirit connect with Born To Die.

Sofia Coppola

Coppola's not a pop star (though she's married to one). She is, however, a famous daddy's girl who gave an early performance that brought shame upon her house. She then recovered beautifully, growing into a major career as a director of films whose dreamy, nostalgic aesthetic and explorations of loneliness seem like prime source material for Del Rey and her collaborators.

Nick Cave

Writing about LDR in New York magazine, Nitsuh Abebe noted that there are myriad male musicians whose songs "work through creepy, unenlightened visions of being men." None is more compelling than Nick Cave, post-punk's revered old prospector, who, as the Australian critic Anwyn Crawford has pointed out, has a fascination with vintage violence that often encompasses scenes of severe violence against women. It's easy to imagine Del Rey replacing Kylie Minogue in Cave's hit "Where the Wild Roses Grow."

M.I.A.

The furor over whether LDR is a "real" artist (or a "real" person, or some version of the latter that confirms her status as the former) has been so extreme that we've all apparently forgotten how recently another female pop sensation was felled by accusations of inauthenticity. The great provocateur Maya Arulpragasam, dinged by a 2010 New York Times profile that questioned her class status and love of fancy French fries, has just released a new single. Maybe she views Del Rey as a good shield.

KISS

The Seattle-based guitarist and lifelong KISS fan Rick Friel made this comparison: no other artist, he opines, has been so despised upon hitting the scene. KISS, like Del Rey, had an exaggerated, obviously inauthentic image; many thought the band's music was clumsy and derivative. Yet nearly four decades after it first blasted through car radios, few would deny the power and the glory of "Rock and Roll All Nite." Who knows what we'll think of "Video Games" in the year 2049?