On 'Mad Men,' Beatles Tune Misses The Mark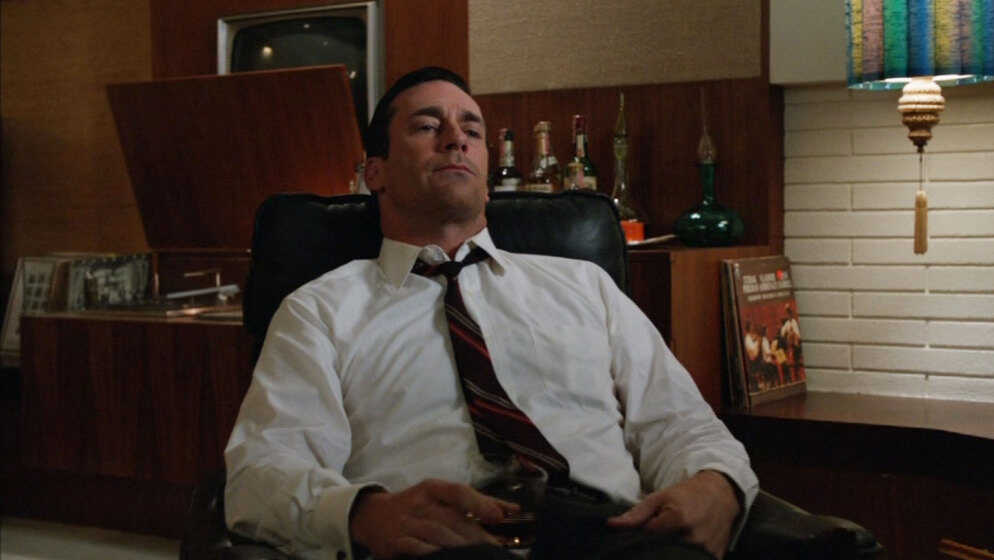 Don Draper sure has a lot of power for a fictional character. At the end of this week's episode of Mad Men, Don dropped the needle on that copy of Revolver ("start with this," his wife Megan said as she pointed at Side B's final track) and the tape loop distortion of "Tomorrow Never Knows" started dripping through his hi-fi speakers. As Lennon sang, "You may see the meaning of within," the camera showed Don's wife and his co-workers, all caught in moments of uncertainty and transition. Don's own response to this hit of mind-expanding music? Disinterest. The episode closes in the silence that follows him lifting the needle mid-song.
My Twitter feed exploded. I'm a Mad Men fan, like every other person out there who digests Quality Television after supper on Sunday nights. But I'm here to take Don and his superego, Mad Men creator Matthew Weiner, down a notch. Yes, managing to license a Beatles track was a coup (an expensive one), but I think Weiner used the track in a way that just doesn't make sense.
Formally beautiful and certainly useful in advancing Don's character arc as he continues to fuddy-duddy himself into the dark shadows, the scene rang false to my music-critical ears. "Tomorrow Never Knows" was part of a paradigm shift that confused and alienated many a pre-rock daddy figure, but it wasn't the start of anything, nor would its experimental yet very shiny sound have likely alienated a quasi-hip city dweller like Don.
By 1966, the Beatles had already owned America for two years. Bob Dylan had gone electric and started hanging out with Andy Warhol. Psychedelic weirdness had made charts via The Kinks' "See My Friends," The Rolling Stones' bad-trip "Paint It, Black," the Troggs' "Wild Thing" and the Beatles' own existentialist "Norwegian Wood." In fact, trippiness was fully entering the mainstream via television shows like The Monkees, which debuted in September 1966, and harmonizing popsters like Sonny and Cher and The Mamas & the Papas, both on the charts that summer.
As Entertainment Weekly TV critic Ken Tucker noted in his recap, "1966 was very much one of those years in which the old and the new mingled freely in the commercial world." Frank Sinatra shared the charts with all those long-haired rock boys, and older guys not getting The Beatles was the stuff of comedy routines. Yet Don is not that kind of old guy — he's spent time in the bohemian enclaves of the West Village (though he didn't really get the beat poetry scene) and he's been married to young Megan for a minute. Is anything on Revolver really weirder than "Zou Bisou Bisou"?
More to the point, Don is an ad man. The episode, titled "Lady Lazarus," was partly about changing attitudes toward work's role in shaping identity: Megan's departure from SCDP contrasts with Don's total investment in the firm. Don remains dedicated to the big sell, and that's why he'd certainly be a Beatlemaniac — if a secret one. The Beatles transformed pop marketing as much as music. From their haircuts to their movies to their risky ad-libs to the press, the Fab Four effortlessly connected pop product to performance to art.
As an inventive, highly competitive trend-chaser, Don Draper would have loved the Beatles from the minute they hit Ed Sullivan. Besides, we already know he's scored tickets to the band's 1965 Shea Stadium concert for his daughter Sally. A more likely response: he would have pulled Revolver out of Megan's manicured grip and said, "Honey, you stick with the crazy stuff, I'm a big fan of 'Paperback Writer!'" Heck, he probably would have used Lane to get a lunch with Brian Epstein. The "meh" he tossed "Tomorrow Never Knows" was just not believable. Now, if Megan had left him with a copy of the Sylvia Plath poem that gave the episode its name — that might have actually shocked him into silence.