A Night Out In New Orleans' New Bohemia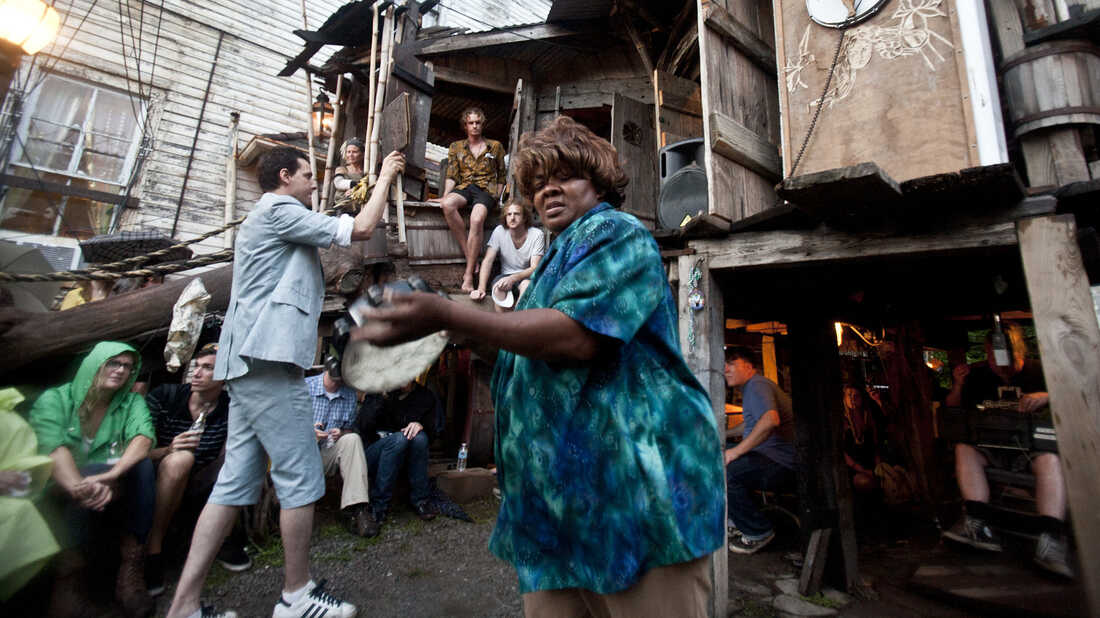 I'm spending June in New Orleans, digging into the soft wet earth of American music. A week in, I feel like I've barely begun to explore. The minute I try to say what draws me to New Orleans music, I realize that the core of it is always changing. It's not just the variety, though I love that in the first few days here, I caught classic blues on Frenchmen Street, a wild bounce night downtown, my longtime favorite Susan Cowsill singing Dusty Springfield covers in the Garden District, and a brass band on the corner in the French Quarter. It's the fact that no live set unfolds quite as you'd expect: Here, musicians are truly making it up as they go along.
Everybody knows that this town is the workshop where geniuses built our sound foundations, starting more than a century ago — jazz, rhythm and blues, brass bands, Cajun and Creole dance blends, even the basic ingredients of much of 21st-century hip hop. But when trying to assess the scene, it's tough to not fall into a muddy Mississippi of stereotypes and received wisdom.
Music in New Orleans is a daily practice. It constructs this city as a fantasy to be indulged, a commodity to be bought and sold, and forum for cultural exchange and community building. Thousands of artists survive here by playing live, day and night. One local music bizzer told me that many don't even like to go on tour because they can make more money staying within the confines of a few city blocks. No other city in America is like that, I think, not even New York.
And the dream of digging in starts young. The writer Alison Fensterstock, who's written extensively about NOLA hip-hop as well as rootsier musics, told me that the high school kids she's met think it's as cool to be in a brass band as a hip-hop crew. The roving young adventurers who follow the neo-hobo circuit from Portland to Minneapolis and down the Mississippi come for a few months to busk on the streets, absorbing the flavor as well as the lore of classic blues and jazz; many end up staying, turning into history's apprentices. They join veteran street performers who've claimed favorite corners for years, with multiple recordings on offer next to their tip jars. American bohemia is about reinventing tradition, exploring lost or hidden pasts as a way of forming new families and becoming individual. It's self-making through cultural pastiche. New Orleans, with so much rich stuff in its many lineage, is an ideal place for bohemias to grow.
As far as I can tell, no one musical experience epitomizes the complexity of New Orleans. One recent special event, however, did provide a beautiful metaphor. I was lucky enough to capture the last two public performances at the Music Box, an amazing space in the burgeoning bohemia a few miles east of the daiquiri-fueled bustle of the French Quarter.
The Music Box is an art installation, a shantytown, an interactive museum, a Bywater backyard, and an inventor's paradise. (Here's a good description of it, and here's a video that one-woman-band Theresa Andersson made in the space.) Constructed from the remains of an old Creole cottage, it's in a lot owned by Jay Pennington, a DJ, musician and natty bon vivant who also runs one of the city's popular bounce music nights. He and artist Delaney Martin founded the organization New Orleans Airlift to offer sustenance to the creatives striving to keep New Orleans moving forward as an arts mecca after Hurricane Katrina. The Music Box is the nonprofit's most successful venture: a tiny village in which every shelter is a playable instrument.
As its organizers (including the New York-based street/installation artist Swoon, whom Pennington enlisted to help conceptualize the project) prepare for a new phase in which these gadget-shacks will be reframed within a permanent building, New Orleans bohemia is saying goodbye to the Music Box. Its imminent transformation, many agreed, would be well served by some kind of ritual act of closure. So this past weekend the multifaceted artist and inventor Quintron — whose house parties have long played a key role in New Orleans hipster nightlife — led a far-flung bunch of improvisors dubbed the Shantytown Orchestra through a piece he'd titled "The History of the Entire Universe."
Every bohemia is, in fact, an entire universe constructed by the self-selected few. New Orleans has dozens. This one featured a lean-to housing a water organ; a wall of wooden blocks triggering samples; a giant lacy hoop skirt covered in clattering glass shards; a lookout tower that blows a hearty drone; and Quintron's own singing house, whose soothing tones are triggered by the weather. (He told me before the performances that he'd like to market this machine to hotels: better than a white-noise machine.)
The 15 players constituted an all-star team, including veteran noise guitarists Rob Cambre and Donald Miller; keyboardist Rotten Milk of Chicago band the Cave; the Brooklyn duo Javelin; multi-instrumentalist French Quarter star Shaye Cohn; Jazzfest fixture Rosalie "Lady Tambourine" Washington, and the Cleveland-based transgender chanteuse Baby Dee. Each member of the group occupied a structure, but somehow they melded minds beyond the walls, joining in a rousing, unpredictable flow.
Quintron conducted the group using homemade traffic signs that looked like cardboard popsicles. Sometimes the ballyhoo sounded a bit like a drum circle. Midway through it coalesced into a waltz; near the end it got funky. At one point, a metal trash can rattled with exploding firecrackers. It rained through the first performance, but the capacity crowd stayed put under plastic ponchos. A rainbow marked the set change; by the night's end, people were on their feet, grooving on the balconies and in the makeshift town's tiny alleyways.
The Music Box will live on as a private installation for a while, as New Orleans Airlift seeks a home for its next project, the sturdier Dithyrambalina. High concept and nontraditional as it may be, this dream-based construction site has found a place in the long history of New Orleans music. The Music Box's central idea — that music is something in which you can live — turns out, I think, to be the fundamental tenet of the city where it has thrived, and which it's inspired. It turns out the Music Box is everywhere in these old New Orleans streets.