Ann Powers' Top 15 Albums Of 2014
Alex Lake/Courtesy of the artist
I have to be honest: Every time I've sat down to make a list of the year's best albums, I have walked away from my desk. Like many people I know, I've often felt lost during the final burning days of 2014 — overwhelmed by recent events, rendered inarticulate in the face of so many important truths being spoken by so many voices, and unsure how to go on with daily life when much more pressing matters are at hand. I wonder if anything is worth thinking about beyond the most obviously serious questions. I worry that the ability to agonize is itself a luxury. And music — music gives so much, I know it changes hearts and sustains lives. But what can I hear in the songs I love, with so much else filling my ear? Should every song be a protest song?
People turn to music in times of crisis — I do — but even as it brings happiness and helps process deep feeling, it can feel like something extra. There's an urge to repurpose it, to figure out how it can serve a higher cause. I've lately recognized that impulse in myself. I've been tempted to narrow my listening to suit some self-constructed higher mandate. But then I realize that I'm being a fool to think that's how music works.
People always need the extra thing that they love, through which they live. I need it. If my house caught fire, I'd come running out the door, clutching tchotchkes in my hands. Why? Not because the extra thing is somehow quantifiably important, but because it makes room for something. It connects me with something extra within: a buried emotion, an urge to be better, a reckoning with pain, even just a rush. Music, taking up time and spreading a feeling of abundance, opens me up to ways of knowing that may have suppressed or not yet cultivated. The connection turns out to be expansive, not extraneous.
This list, in alphabetical order, honors albums that created room for thought and feeling in my life throughout 2014. In the course of any given day I would put one on in the car or while walking or cooking or laying on the floor. Soon, I'd have access to something I might have been ignoring because life is so busy and sometimes feels so heavy and close. A moment of pleasure; a better self to pursue; a way to cope. Each of these these twelve albums gave me something I needed this year, whether I knew it or not, could name it or not. They are my latest favorite extra things.
Ann Powers' Top 15 Albums Of 2014
Ambrose Akinmusire, 'The Imagined Savoir Is Far Easier To Paint'
This album offered me a space where I could collect myself. Trumpeter Ambrose Akinmusire's compositions are like Mark Rothko paintings: large, filling every corner of the frame, yet calm, spacious, their colors connected in subtle gradations. Each soaks its own borders, drifting from jazz to art song to ambient music, toward new forms. Akinmusire's band and collaborators consistently honor his spacious sense of time. Whether the songs deal with pressing issues like homelessness or the violence young black men face in America, or remain abstract, they encourage contemplation. I turn to this music when I need to remember to breathe.
Angaleena Presley, 'American Middle Class'
This album gave me the gift of confrontation. The Kentucky-born, Nashville-based Presley, best known as one-third of the Pistol Annies, waited years to make this solo debut on her own terms. As co-producer, she devised a sound that marries hard country to the earthy urbanity of singer-songwriters like John Prine and Lucinda Williams, and like those inspirations, as a lyricist, she's fearless. The confrontation comes in Presley's clear-eyed assessments of the small-town home she still loves but has to leave; of the Nashville scene that sometimes leaves her feeling empty and of the self she's made travelling between those two points of origin. I turn to this music when I need a hearty dose of real talk.
Curtis Harding, 'Soul Power'
This album reminded me that old ways can be made new. This year was particularly strong for fresh takes on soul, funk and blues, with St. Paul and the Broken Bones, Benjamin Booker, The Budos Band, Steelism and Sallie Ford all wiping the dust from old sources. Imagination and a willingness to live deep within this material, instead of merely putting on its costume, makes the difference. The Atlanta-based Harding made old feelings fresh most expertly: He finds himself within the vintage soul he loves through richly emotional singing and risky arrangements that incorporate punk, funk, garage and bedroom rock. I turn to this music when I want to feel the lessons of history extending into the present day.
EMA, 'The Future's Void'
This album helped me work through some nightmares. Connecting the analog heritage of indie rock with the digitized dystopias of cyberpunk, Erika M. Anderson winds up in the woozy present, where the loneliness of Web-dominated life is tinged with a sense of constant violation. Anderson and bandmate Leif Schackleford acknowledge the attractive side of future shock. But her wails, roars and moans, melding with the static or fighting it, reassert the spirit that becoming post-human can't exinguish. I turn to this music when I'm suffering from screen-induced eye strain.
FKA twigs, 'LP1'
This album offered me a kind of sensuality suitable to a somewhat chilly year. Like EMA, FKA twigs (born Tahliah Barnett) is interested in the place where the body merges with the matrix. She taps into the future-soul legacy of Aaliyah to shape a self that's part fantasy, yet tied to the dangerous potentialities of the flesh. Her lyrics focus on boundaries that only seem to melt — collisions with lovers who bring pain as well as pleasure, merely by inhabiting bodies separate from her own. Musically, Barnett dissolves limits. Her voice, merging with the music's pulsing beats, glitches and fluid grooves, becomes fiber-optic. I turn to this music when I want to chill out in a hot place.
Hurray For The Riff Raff, 'Small Town Heroes'
This album helped me feel engaged. Alynda Lee Segarra, who's been leading versions of this band since she was a young busker in New Orleans, is not only one of the most committed young political voices in popular music right now; she's also a self-schooled roots music revisionist claiming space for women, people of color and queer folk within the popular music canon. The sass of the girl groups, the verve of the blues queens, the sadness of the torch singer; they're all here in Segarra's seemingly simple but bottomless songs, redefining Americana in rich new ways. Her lyrics point forward, past old prejudices. I turn to this music for hope.
Jenny Lewis, 'The Voyager'
This album offered me the warmth of identification. Jenny Lewis is actually a pretty cool character — a master of pop songcraft and a well-seasoned scout on the terrain where rock meets pop. But her great subject is the complicated female heart. On her third solo album, Lewis reps for adventurous grown women in all their prickliness and strength, making hard choices and facing down the consequences. These songs consider the kinds of love that survive even the dumbest mutual decisions and the kinds of losses that endanger self-respect, and how to survive both. I turn to this music when I need a sister's good advice.
Mary J. Blige, 'The London Sessions'
This album helped me cope. Released in late November, this long-anticipated collaboration between the queen of hip-hop soul and her fan club of British hitmakers (including Disclosure and Sam Smith) is, on one level, a victory lap, and it's heartening to hear a seasoned artist leading her protégés through fresh takes on a sound she helped invent. But The London Sessions is also about recommitting to one's purpose in life. Blige's favorite subject, the determination to thrive despite life's obstacles, gains new energy as she responds adroitly and authoritatively to the respect her collaborators grant her. Songs about believing in yourself and in love's higher power can be corny, but when they're made with total conviction, they become gospel. I listen to this music when I'm trying to find faith.
Noura Mint Seymali, 'Tzenni'
This album helped me find a groove. Noura Mint Seymali has been performing in her native Mauritania since she was 13, mastering the intense vocal style of African desert music and playing the ardine, or nine-stringed harp. With her husband, the guitarist Jeiche Ould Chighaly, she's built a sound that merges Moorish traditions with avant-garde jazz, funk and psychedelic rock. On her first internationally released full length album, her sturdy yet remarkably limber voice leads the way through jams that bound across the musical diaspora, touching on reggae, going blue, invoking a new summer of love. I turn to this music when I need to spin around in circles until I feel free.
Robert Ellis, 'The Lights From The Chemical Plant'
This album reminds me of the value of care and craft. Ellis, Texas-born and now pushing boundaries in Nashville, likes to shine the light of exquisite detail on things and let deeper meanings emanate from those little things. Meticulously constructed vignettes about love and drift, betrayal and faith gain scope within arrangements grounded in country and the troubadour tradition, but open to anything, from hard rock to smooth singer-songwriter suavity to ambient jams. It all comes together under the sway of Ellis's woodwind voice and his band's impeccable interplay. I turn to this music when I crave the grace of true artistry.
Robert Plant, 'lullaby and... The Ceaseless Roar'
This album gave me wisdom. Actually, many releases did so this year, from Rosanne Cash's travelogue The River & the Thread to Leonard Cohen's Popular Problems. But it was Plant's tenth solo album, made with a new band of mostly old friends, The Sensational Space Shifters, that really showed me how a veteran could powerfully reside with all of his experience and still be light on his feet. Reaching into his own past for inspiration while continuing to be musically curious, Plant sounds intensely engaged and alive throughout this album. And each track paints a world. I listen to this music when I need to remember the value of experience.
Run The Jewels, 'Run The Jewels 2'
This album gave me chills. Most of the hip-hop that interested me this year was from upstarts wildly following their bliss, like Atlanta freaks Young Thug and ILOVEMAKKONEN and L.A. trendsetters YG and DJ Mustard. This is something different: a massively confident display of virtuosity from two rap veterans who've honed their gifts until they're sharp like scalpels. Whether weaving complex tales of American life or just shooting the battle-rap breeze, El-P and Killer Mike are unrivaled — in any genre — in terms of self-assurance, inventiveness and pure musicality. The album's production, mosty by El-P and his Def Jux compatriot Little Shalimar, turns their rhymes into hypertext. I listen to this music when I want to feel awestruck.
Sam Hunt, 'Montevallo'
This album gave me good times. Yes, it's a mainstream country outing from a former football player; yes, it has a key song about partying. But that song, "House Party," incorporates hip-hop rhythms and production techniques in a way that, for the first time in country maybe, feels utterly unforced; and it's about a party for two where the girl calls the shots and doesn't even have to change out of her sweatpants. Throughout Montevallo, Hunt's sound breaks the box of genre — the slower songs pay homage to Quiet Storm R&B while still featuring plenty of strummy guitar — and the sentiments are sweet, advocating for open-mindedness and romance between equals. If this is what millennials have planned for a genre prone to conservatism, I can't wait for more. I turn to this music for a smile.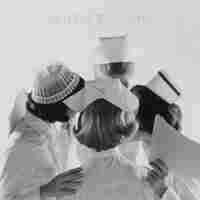 Shakey Graves, 'And The War Came'
This album blessed me with mystery. I'd enjoyed the 2011 debut album by Austinite Alejandro Rose-Garcia, who blends blues, country and Jeff Buckley-style swooning as Shakey Graves, and expected more pleasantly atmospheric stuff from this one. Instead, I found a labyrinth: Each song leads sideways into dim light, exposing half-memories and images that startle and haunt. Some, like the indelibly catchy "Dearly Departed," rock hard; others, like the sad "Pansy Waltz," rattle around like apparitions. Three are duets with Denver-based chanteuse Esme Patterson, who has her own elusive mystique. There's nothing hard-hitting or pretentious here, just little magic boxes to fascinate the mind. I turn to this music when I want to get lost.
Sturgill Simpson, 'Metamodern Sounds In Country Music'
This album gave me guts. With this album, Simpson, who'd been around the Americana music block a few times before this breakthrough, did exactly what he wanted to do, which turned out to be unlike anything else. He honored the influences he loved, from Merle Haggard to Aaron Tippin; but he also pursued his interests in psychedelic drugs, New Wave music and existentialism. Uniting all these elements with the help of a tough-minded band and mostly-unsung producer of the year Dave Cobb, Simpson made a masterpiece about home and leaving, faith and radical skepticism. I listen to this music when I need to get my courage up.
Which is always, these days.