Heavenly Bodies
How Electronic Music Transgressed Gender And Genre In 2015
Benoit Pailley/Courtesy of the artist
It's odd to have a body. Limbs, joints, cartilage, veins, nerves, cells—the looming presence of such inescapable parts can make for confounding states of existential estrangement. Move on to other parts that signify conventions of gender and the notion can be enough to turn a mind inside-out.
Electronic music in 2015 seemed to strive toward such scrambled states. Certain strains of it, anyway: Far from the arena-rattling idols of EDM, a cast of progressive experimentalists turned to matters of gender as a subject ripe for survey in both danceable and non-danceable electronic milieus. In a genre that has long privileged elusiveness and anonymity—think of the archetypal faceless DJ with seven confusing aliases spinning in a darkened club—the question of identity came in for new and imaginatively expansive focus.
Signs of gender morphing and moving through unprecedented stages of understanding and acceptance have been evident all throughout the culture, from the pop-scale heights of Caitlyn Jenner, Laverne Cox and the TV series Transparent to articles in major newspapers contemplating the use of Mx. as a gender-neutral honorific in place of Mr. or Ms. Even if the language lags, recognition of grey areas between too-tidy notions of binary black and white has been on the rise, to be sure.
The dynamic in electronic music draws in part from movements established in art, fashion, and other realms with which music in general has begun to blur. To make music that aspires toward progressivism now is also to direct videos, dabble in design, and negotiate options for the presentation of different personae across all kinds of media. In the present era, a musician of a certain age (read: young) is rarely just a musician in the end.
Of most note in terms of reach, Arca—the artist and producer who collaborated with Björk on her stirring album Vulnicura—stretched and contorted matters of the flesh this year to intriguing extremes. Following his 2014 debut album Xen (named after an alter-ego addressed with feminine pronouns but said to be neither female nor male), Arca hit bigger with Mutant, a bracing album full of crashing, creaking rhythms and all manner of noise and aural corrosion fitted between. Certain songs came accompanied with videos in which bodies are contemplated from a vantage that could be the result of liberated lust or eerie leering—or, most likely, both. The effect in any case is spellbinding, with Arca himself presented as a sort of mutating abstract wraith writhing in yellow thigh-high boots and shimmering strangely underwater in stockings with a garter-belt in place.
Sexuality is central to the aesthetic but in a more than typically revealing and signal-scrambling way. Talking about his approach to sound and seemingly much else, Arca said, in an interview with Philip Sherburne at Pitchfork, "You become more animalistic when you don't know what's coming next—you have to be on guard, but at the same time you're also more receptive. Something I keep coming back to is the tension between two extremes: healing and chaos, hope and anxiety—these big themes are inside us, flickering, all day."
On the subject of his sexuality, he continued: "For me, it's not about living my life as a boy or a girl—but I'm also not trans—it's just that one day you wake up feeling masculine, and one day you wake up feeling feminine. The flickering in between those two states is what's most fertile for me."
The flickering projects internally as well as externally, he said: "It yields ways for me to relate to people that are different from myself and opportunities for me to turn shame into something healing. It's very human to try to put things into boxes, and it's hard for us to reconcile with grey areas, and yet somehow that's the area I find the most poetic, the juiciest."
Many of Arca's revelations, he has said, owe to experiences at GHE20G0TH1K, a storied dance party and proudly freaky fashion confab started in New York and traveled around the globe. In 2015, the party was paid tribute with a big event in its honor as part of the Red Bull Music Academy, with antic, epochally style-smashing DJ sets by Venus X, Mike Q, and Total Freedom. The sounds were very circa now—a manic and spastic collision of house music, hip-hop, freestyle, and frenetic breakbeat miscellany. The fashion, both directly and indirectly, was inspired by Hood By Air, a vaunted designer enterprise that treats no one gender conception as superior to any other nor seems especially interested in gender distinctions of any kind anyway. The clothes are often flowing, dysmorphic, and abstractly draped, fit for bodies of all conceivable human (and even alien) kinds. The music flits between dark, gothic moodscapes à la Arca and giddy, fizzy, high-energy styles that soundtrack dance battles in the "ballroom" scene, where the roots of the '80s/'90s drag circuit still grow wild and free.
Another breakout from that world this year is Juliana Huxtable, whose boundary-crossing forays from the DJ booth and the performance stage to the white walls of museums and galleries made her a force in the art world. At the New Museum Triennial in New York, a survey of young and emerging artists from all over, Huxtable was represented twice: with an installation of work of her own, including otherworldly self-portraits and poetry, and as the subject of a life-size 3-D sculpture by another artist, Frank Benson, of her naked body sprawled across a pedestal in a pose that invites gawking while freezing a gaze dead in its tracks. At an exhibition in which matters of identity took on crucial importance, the image of a transgender model splayed out for all to see proved emblematic: proud, defiant, steely, shy, shifty in its play with notions of surface and unseeable inner-workings.
Benoit Pailley/Courtesy of the artist
In an interview in the exhibition catalog, Huxtable said, "I used to feel a bit powerless, and it was actually through playing with my body as an image file that could be manipulated, distorted, rendered, decorated, and placed in new contexts that I came to accept and feel at home in my body as it is currently, but also to imagine how it might move into the future."
The nightlife and party/pageant scene around electronic music was formative for Huxtable as well as numerous other artists in the show, including Ashland Mines, who DJs prolifically (and stylistically promiscuously) as Total Freedom. To Lauren Cornell, co-curator of the Triennial (alongside the mind-warping, gender-bending artist Ryan Trecartin), the "disorienting, experimental" nature of so much contemporary electronic music proved significant in more than just musical terms. "A lot of the young artists that we worked with carry over a feeling of the club as a transgressive space in their art," she told me.
The legacy of the club as a space suited for regeneration and reinvention goes back to disco and follows through countless movements rooted in the politics of gender, sexuality, race, and identity markers of all kinds. ANOHNI, the newly minted moniker for the artist formerly known as Antony of Antony & the Johnsons, made a gesture decidedly in that direction with the release of "4 Degrees," a dramatic, fractious post-club track made with electronic-music-makers Hudson Mohawke and Oneohtrix Point Never. It was the first taste of a forthcoming album-length collaboration between the three, and the first full-scale public use of what ANOHNI called a "spirit name" more in line with her transgender identification.
The same spirit wandered out into certain strains of (more than usually) electronically inclined hip-hop as practiced by Mykki Blanco, whose 2015 label compilation C-ORE features her sassily rapping about her haters—"they don't want to see a man in a dress"—before serving up a nice zigzag line of allegiance: "I'm a big boy, like Serena." Le1f, an enigmatic rapper who rises up and down among collaborators like House of LaDosha on his striking album Riot Boi, plays games in an intro track titled "Hi." "Check my whole aura winking at you," he raps, while mulling both unity and individuality: "International youth gang, we liberal / But I'ma do me is all I can do."
The darker and noisier realms of electronic music came laced with queer politics this year by way of Rabit and Lotic, both of whom offered up gritty, grotty-sounding releases on the au courant label Tri Angle. In an interview with The Quietus, Rabit, the creator of the album Communion, said, "I found the idea of masculine and feminine energy...interesting and so my production is often a way of feeling around that. Nothing was ever made with the thought process of 'I'm gonna sit down now and make a song about being queer' or in some hyper-masculine mold. Gender perceptions are very divisive and can stifle progression."
He sees no reason for sounds themselves to be gendered, either: "It's definitely a stereotype that if you do some kind of angelic melody it's seen as feminine and if you do something that's abrasive and industrial, it's described as super masculine. I like to play with that, though, and I think somebody like Lotic is a good example of messing with that too, because he can make very abrasive sounds and place them alongside completely opposite sounds that people traditionally term as feminine." On the title track of his own EP Heterocetera, the likeminded Lotic made a powerful move by working with "The Ha Dance" by Masters at Work, a vintage anthem from the voguing ballroom scene, and twisting it into something warped of his own peculiar making.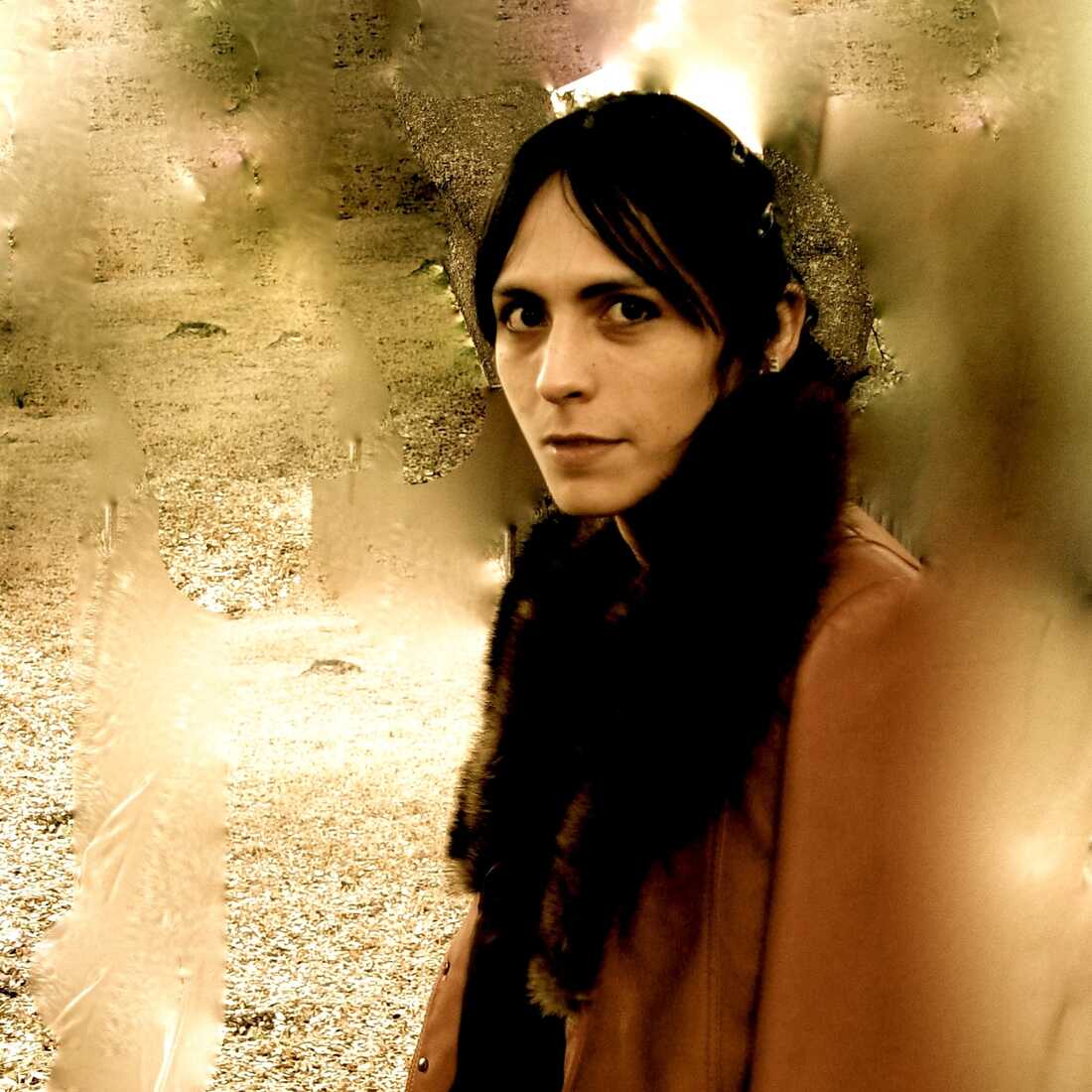 Among the most peculiar of all electronic releases this year was American Drift by Elysia Crampton, an artist with roots in Bolivia, Mexico, California, and rural Virginia. All figure into the dense and cryptic mythology at play in an album that mixes drifting synths with lashing laser sounds, rumbling drums, snarling crunk samples, and spoken word that binds the personal with the geographical. The impressionistic swirl of it all is singular, to be sure, but Crampton shares allegiances with much else in her milieu. She works closely with Juliana Huxtable—she made the music for a recent performance of Huxtable's at the estimable Museum of Modern Art—and she professes adulation of Total Freedom/Ashland Mines, who she sees as an envoy for so much going on in club culture now.
For Crampton, matters related to her transgender identity are mystical as much as material. "I can't confront and explore my own trans-ness without touching on a bigger trans-ness: trans-humanity, trans-thing, trans-subject, trans-etc.," she told me. "It's a kind of education. Terms float as taglines and become embedded. But it's neat how algorithms push you together with other artists too."
Music, for her, allows and even creates space in which different states of being and becoming can be as accepted as any other. "In this language, a person can't come to be because the language is so binary," Crampton said. "Or maybe they can but it makes it that much harder. In music, you make a dimensional space where certain identities and certain ideas can be born and perhaps thrive. Music has always been that for me. When it plays, you can feel your chemistry changing. If it's something you really like, it's like gene methylation—you can feel a genetic change."
The motion and progress implied in music of whatever kind—electronic music especially—makes a good analog for transition as she conceives of it too.
"Trans is becoming. Trans is the difference between the universe being frozen and the universe moving forward," she said. "Do we still have the ability to imagine alternate futures for ourselves? Or have we all just become apocalyptic?"