Meet the Blog Host: April Fulton
When I'm not cooking up something tasty in my kitchen, I'm working on The Salt, NPR's food blog. I'm known to be quick with a keyboard and a whisk.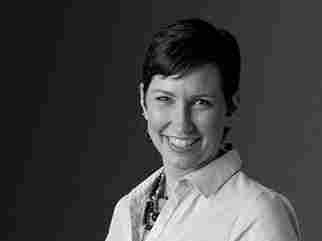 I came to food in a roundabout way. My college roommate taught me if you could cook, boys would visit. That's about all it took for me to start learning my saté from my sauté.
Then I got serious. I spent a few years covering the Food and Drug Administration, delving into drug regulation and food labeling laws. Next I went to Capitol Hill to cover Congress and health policy.
But I spent my free time immersing myself in cookbooks — especially old raggedy ones found at yard sales with tantalizing titles like Joys of Jell-O and Cooking the Scandinavian Way (c. 1961). To me, they offered fascinating glimpses into other worlds.
I want to know what shaped our tastes historically and culturally, how tastes change, and just how food gets to the table.
I am constantly experimenting with new foods and recipes, turning my family and friends into guinea pigs. For the most part, they love it. They don't bring up the misfires too much.
NPR's Science Desk hired me as a health editor in 2009.
I helped launch and regularly contribute to NPR's health blog, Shots, and have appeared on air to explain the controversies of raw milk, demystify the new federal nutrition guidelines and discuss growing African vegetables in Maryland.
Here at The Salt, we hope to give you some insight into how our food system works and why we should care.
Follow The Salt on Twitter @NPRFood, follow me on Twitter @fultonhere, and feel free to drop us a note about what you're eating and thinking about to thesalt at npr dot org.