Analysis: Khamenei's Hard-line View Should Be No Surprise : The Two-Way Analysis of Khamenei's speech.
Analysis: Khamenei's Hard-line View Should Be No Surprise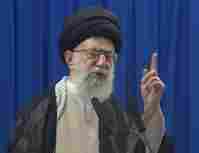 Here's a way to summarize Ayatollah Ali Khamenei's speech today at Tehran University:
Sure, he said, people can raise concerns about the election — but he added that a stolen election was impossible, that foreigners were agitating Iran, and that protesters could face harsh consequences. In other words: Go right ahead, protesters. Beat your head on that brick wall. I won't be responsible if your skulls are cracked.
That may disappoint protesters, but may not surprise those who watch the supreme leader closely.
Early this year, Morning Edition profiled Khamenei, interviewing people who knew him and visiting his hometown, Mashad, Iran.
Khamenei, 69, grew up near the domes of a Shiite Muslim shrine, the son of an ayatollah. The father was a religious scholar of much distinction, but not very political. The son grew up to be a religious scholar of limited distinction, but was very political. He was a close lieutenant of Ayatollah Ruhollah Khomeini, the stern-faced cleric who led the 1979 Islamic revolution.
Khamenei succeeded the late revolutionary leader in 1989. Initially dismissed as a seat-warmer, he gradually increased his power. Today his face gazes out from countless posters and billboards. His acolytes have come to fill most critical positions in the government.
Iranians are sometimes allowed to criticize other Iranian leaders; criticism of Khamenei is out of bounds. He is supposed to be a fair guide to those below. When the challenger in Iran's presidential election concluded that the vote was rigged, he appealed to Khamenei for relief, the way that Russian peasants once appealed to the czar.
But his public statements show a man of conservative religious beliefs who feels no special need to reconcile with the West. He's shown little sympathy for the reform program of the challenger, Mir Hossein Mousavi. Back in February, one diplomat in Tehran forecast that Khamenei would not be an honest broker between the various camps in Iran — the reformers who want Iran's revolution to adjust its course, and the "hardliners" who do not. Khamenei, the diplomat told us, is one of the "hardliners."
That prediction was borne out today. Khamenei backed hardline President Mahmoud Ahamdinejad, endorsing his re-election as well as his policies. Mike Shuster, our correspondent of long experience in Iran, says the Supreme Leader's speech could scarcely have been harder:
(Steve Inskeep is co-host of Morning Edition. Click here for more of NPR News' coverage of events in Iran.)