Alabama Bans Wine With Naked Nymph On Label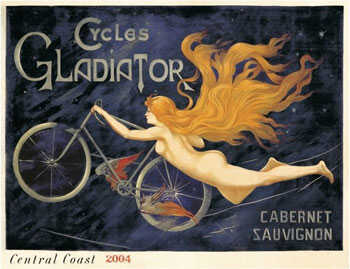 Alabama doesn't want any images of naked flying nymphs hanging off bicycles on the labels of wine bottles sold in the state and that's just the way it is.
Might give people the wrong idea. Who knows what folks might start trying on bicycles?
So the state's liquor control board has banned a California wine called Cycles Gladiator because its label uses an Art Nouveau image that once graced the posters of a turn-of-the-century French bicycle manufacturer. So "Fat Bastard" wine is OK but if you think you're going to sell a wine with an artful nude on the label in Alabama, you're just whistling Dixie.
As for Hahn Family Wines in Soledad, Calif., the state's move has been a marketing godsend.
As the Associated Press reports:
MONTGOMERY, Ala. (AP) - Alabama's ban on a wine that features a nude nymph on the label became a business opportunity for a California vintner who is preparing a marketing campaign to capitalize on being "Banned in Bama."
The Alabama Alcoholic Beverage Control Board recently told stores and restaurants to quit serving Cycles Gladiator wine because of the label. Board attorney Bob Martin said the stylized, art-nouveau rendition of a nude female with a flying bicycle violated Alabama rules against displaying "a person posed in an immoral or sensuous manner."
Bill Leigon, president of Hahn Family Wines in Soledad, Calif., said Thursday that visits to the company's Web site have increased tenfold since news of the ban broke late last week, and callers from across the country have been asking where they can buy the wine.
Because of the interest, he's developing store displays that say "Banned in Bama" and "Taste What They Can't Have in Alabama." Hahn said he will never miss the 500 cases sold annually in Alabama. "There is going to be a significant increase in our
sales," he predicted.
Rosanna Guardagno, a social psychologist at the University of Alabama, said a ban often increases people's interest in a product.
"The ABC Board, without realizing it, is going to boost their sales," she said.
Here's a thought experiment. If a Virginia vintner produced a wine whose label bore the Great Seal of Virginia on it with its image of the Roman goddess Virtus tantalizingly showing a bare breast and striking a vaguely dominatrix pose, would Alabama's liquor-control board ban that too?